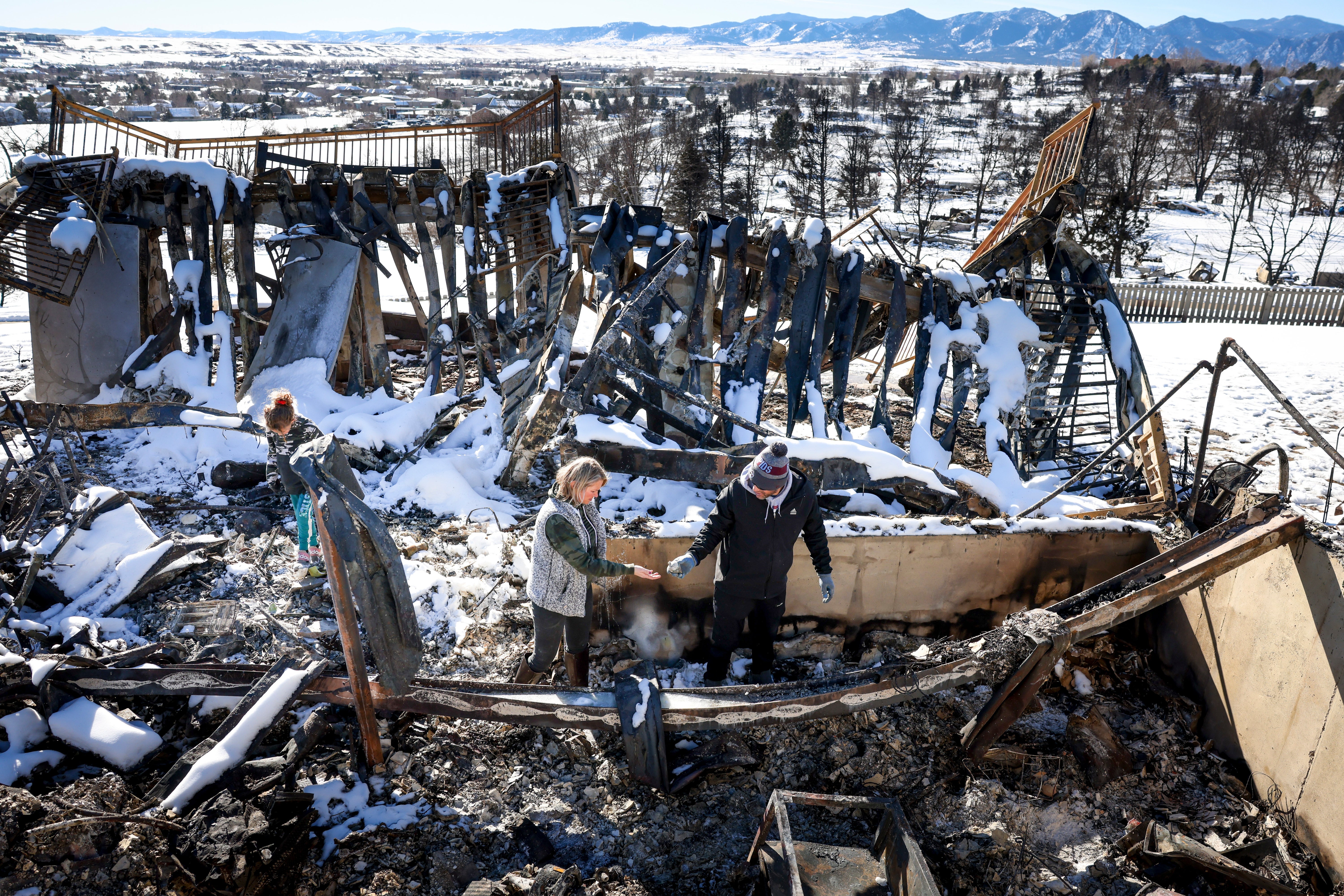 Colorado's Marshall Fire, which incinerated over a half-billion dollars' worth of homes near Boulder in December, is likely to become the most investigated wildfire in U.S. history.
One reason for that is the blaze hit close to home for fire experts. As many as 100 scientists studying wildfires, smoke, air pollution and climate change lived in or near Louisville and Superior, the two towns where over 1,000 homes were destroyed.
Many of the scientists work for five national laboratories in the Boulder area run by NOAA and the National Center for Atmospheric Research. Others do research for the University of Colorado, where the Cooperative Institute for Research in Environmental Sciences often partners with federal agencies on climate-related projects.
"We began realizing that there just isn't much science out there in terms of guidance," explained Michael Hannigan, an engineering professor at the University of Colorado. "So we thought why not try to do some science, really fast? We live in one of the places that's arguably the best in the world for atmospheric science."
They are finding that the Dec. 30 fire, which burned 1,084 homes to the ground and spread flaming embers, toxic ashes and gases over a much wider area, exposed a large gap in knowledge of the risks of living in what scientists call the "wildland urban interface."
These are often densely populated towns that have been growing rapidly over the last 20 years near forests or other wild areas along both coasts of the U.S. and in the vicinity of the Gulf of Mexico.
While there has been a great deal of research on wildfires and how they burn, there have been relatively few studies on what happens when the wildfires reach urban areas. The Marshall Fire "burned a densely populated suburban area where most residents had not previously considered wildfire a threat," Becky Bolinger, Colorado's assistant state climatologist, concluded after reviewing the fire damage.
The changing climate had a lot to do with the lack of awareness in Louisville and Superior. A record-setting snowpack in the winter of 2020 followed by a wet spring and summer resulted in a 70 percent increase in grasses growing in large meadows near Marshall Lake, about 7 miles away.
Then a record drought hit the area in late fall and winter of 2021. It turned the grasslands into what amounted to kindling, waiting for a spark. It came (from still unknown sources) on Dec. 30. The flames and embers were driven by 100-mph wind gusts toward the two towns.
"It's the first time in my career I have felt comfortable saying this is a climate fire," concluded Natasha Stavros, director of a laboratory at the University of Colorado that focuses on multidisciplinary science problems. High winds are relatively common in the area, but the deluge that was later followed by a severe drought isn't.
They created what she calls a "domino effect" that hadn't been seen before. "This particular community is not in places that most people would think of as wildlands," she said.
She expects the changes will result in new laws.
"Just as we have flood zones, we will have fire zones and people won't be allowed to build in certain areas," she said.
The thick smoke from burning houses inspired Joost de Gouw, a chemistry professor, to obtain a quick grant from the university to analyze the remains of the blaze. He has found it spread residues from plastic, metals, car tires, fried shingles, melted batteries and a spectrum of other materials that were destroyed by intense heat.
The result is more toxic than what a forest fire would leave, he explained in an interview. Friends of his who lived in the burned-out area are still bothered by strange scents in the air six weeks after the fire.
They worry about health effects—and they should, de Gouw said. The pollutants will likely become airborne again on windy days and when remaining homes are being cleaned and ashes of destroyed houses are being removed.
He has put instruments into 11 surviving houses to measure smoke damage, and he rolled mass spectrometers down nearby streets. They are machines designed to measure and identify pollutants.
"We have a lot of homework ahead of us," de Gouw said.
The National Science Foundation (NSF) sends out teams of skilled researchers around the world to quickly explore unusual disasters such as hurricanes, floods and earthquakes. Brad Wham, who teaches civil engineering at the University of Colorado, has been summoned to study events in Japan and New Zealand.
Grants to support research usually take up to a year to be approved, but Wham got the call while he was evacuating from his home in Louisville. The fires were burning a few hundred yards away. This was the first wildland fire that the NSF has responded to, Wham pointed out in an interview. "That's very exciting."
He was put on a team examining the relative flammability of different kinds of houses. He also used drones to study the landscape around them. He managed to get his first aerial survey aloft before a snowstorm covered the burned areas.
"We have some very good data on where the fire moved in from an open space and burned a number of homes," said Wham, whose own home escaped harm.
Wham also talked to firefighters who battled the burning homes and credits them with preventing even more damage by the racing blaze. They hosed down a particular set of houses. That kept the flames from moving into an adjoining area of homes.
Erica Fischer, a structural engineer from Oregon State University, was a member of Wham's team and examined which types of houses sustained the most damage from flaming embers. She said the results will appear shortly in a study that is likely to spawn more research.
"We are going into the field to rapidly collect data and get it out into the public," she explained. Most of the research on wildfires up to now has been largely supported by the U.S. Forest Service and the Bureau of Land Management.
Local communities will have to better understand the growing wildfire risks to minimize urban exposure, she said.
"That's the goal. Fires tend to come back to the same place over and over again. It's important that right after a fire that mitigation provisions are put in place, so you don't have these large losses within the community," Fischer said.
Maxwell Cook is working on a doctorate at the University of Colorado with a focus on wildfire impacts around the world. Between 1990 and 2015, he estimates, people living in wildland urban interface areas grew by 32 million in the U.S.
The Marshall Fire, he calculates, burned 6,000 acres, making it less than half the size of the second-biggest wildfire in Colorado's history. Yet it destroyed 39 percent of all the homes lost to Colorado wildfires since 1999, making it the state's most destructive wildfire.
The city of Louisville's Public Works and Utilities Department published a report in January, however, suggesting that the two cities may have been lucky. Between Dec. 30 and 31, a nine-person team spent 18 hours waging a battle against falling water pressure. If they failed, the firefight could have stalled.
Blackouts crippled two water plants serving the area, and water pressure was dropping at the third. The agreed-on solution, according to the report, was: "We gotta try something."
Untreated reservoir water was pumped into the system from the remaining water plant. But pressure kept dropping. Then at 1 a.m. Dec. 30, three team members drove into the burning area. As firefighters left fire-damaged homes, the public works team hunted through the ruins to find and manually shut off water mains that were feeding leaking pipes.
Without that, more of Louisville (population 21,226) and Superior (population 12,921) "would have been lost," the report said.
Reprinted from E&E News with permission from POLITICO, LLC. Copyright 2022. E&E News provides essential news for energy and environment professionals.