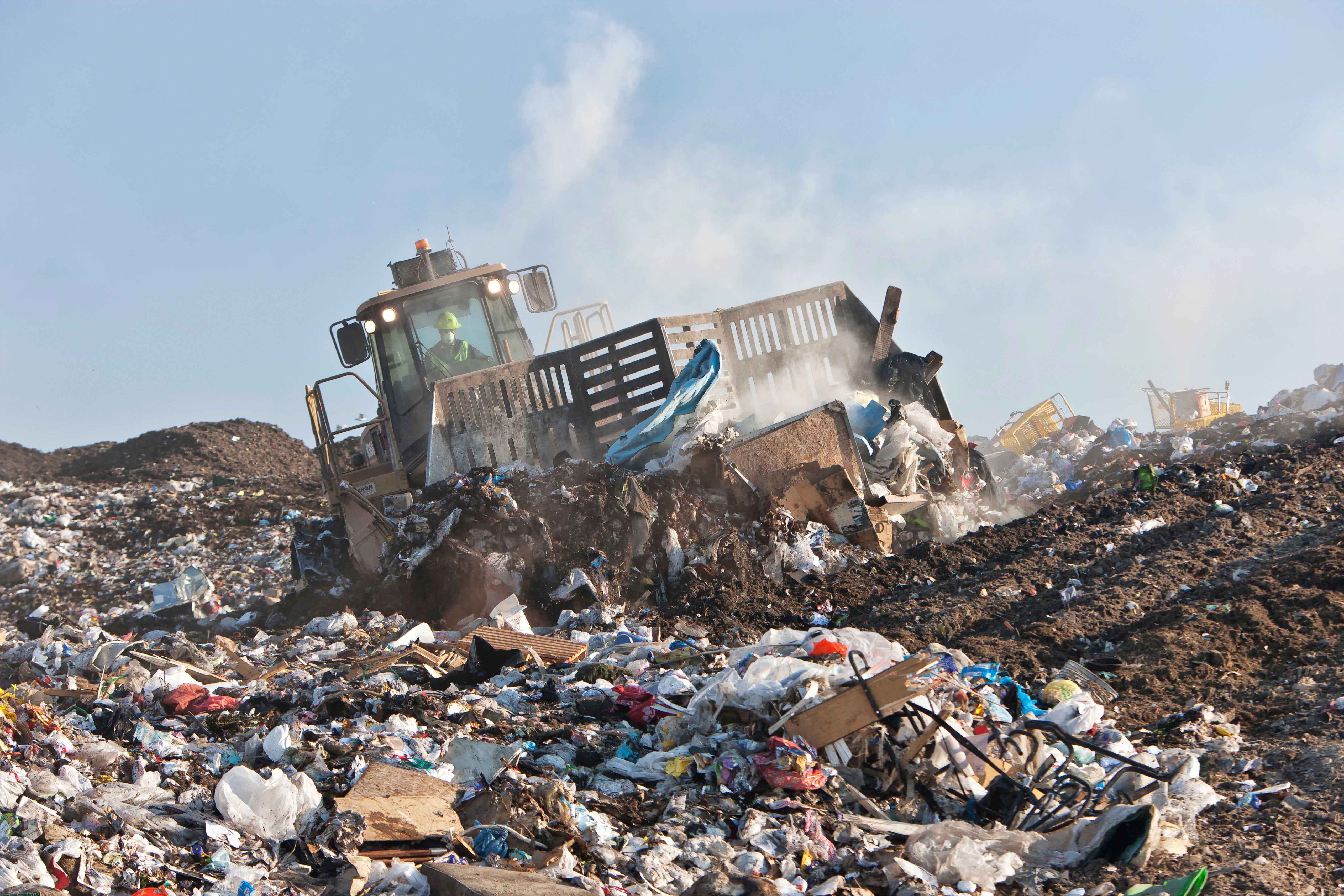 California is poised to launch the nation's biggest program to prevent food waste from going into landfills as a way to reduce greenhouse gas emissions and generate clean energy.
A law taking effect in January will require municipalities across the state to collect food waste for its potential use in making renewable natural gas for electricity. The law targets methane, a potent warming gas that forms when organic material like food scraps sits in trash dumps.
One year of food waste diversion by 2030 is expected to prevent 14 million metric tons of carbon emissions over that trash's lifetime of decomposition. That equals taking 3 million vehicles off the road for a year, state officials said.
"It's a tectonic shift," said Yaniv Scherson, chief operating officer at Anaergia, which converts food waste into compost and renewable natural gas. "It's a great demonstration for the industry and for the world, so they understand that we can tackle the largest emitter of methane, which is organic waste going to landfills."
California's law isn't the first in the nation. But it is the largest and, if successful, could have a major impact because the state has 40 million residents, experts said. Food waste accounts for half of the material in Golden State landfills, according to the California Department of Resources Recycling and Recovery, known as CalRecycle.
New York recently passed a similar trash diversion mandate, and New York City has had one in effect for several years. Vermont requires food waste diversion while Connecticut, Massachusetts and New Jersey are phasing in or developing similar laws, said Neil Edgar, executive director with the California Compost Coalition, a trade group.
California's mandate is expected to trigger action in other states, with Oregon and Washington already looking at using the law as a model for a statewide action, advocates said.
Lowering methane emissions is important because it's 84 times more potent than carbon dioxide over a 20 year period.
The mandate aims to cut the amount of trash entering California landfills by 75 percent. A 1989 law required local governments and regional trash management agencies to hit a 50 percent drop by 2000.
The new law stems from a measure passed in 2016 called S.B. 1383. It created a yearslong runway for statewide food waste collection by allowing for the construction of new infrastructure, such as generation plants, to convert the food waste into either compost used for farming or renewable natural gas.
But the Golden State still needs about 160 more plants, said Scherson of Anaergia. A state fact sheet put the new plant number at an additional 80 to 90.
The pandemic delayed some of the work. But there's also been a chicken-egg problem, said Edgar of the compost trade group. To get a bank loan to build a facility, he said, developers need to show they have an income stream. Now with local governments obligated to keep food waste out of landfills, those developers can show they have money coming in.
However, there's skepticism about whether it's feasible to build the needed food waste recycling plants.
"People don't love composting facilities," said Ken Alex, director of Project Climate at Berkeley Law School's Center for Law, Energy & the Environment. "They're waste facilities, and they sometimes have smells. They sometimes have a lot of trucks. So getting them sited in locations is often difficult."
"Whether we can get to that level of scale seems unlikely to me," he added.
There's also concern that converting food waste to natural gas can hurt people of color and those with lower incomes who might live near oil refineries, Alex said. Renewable natural gas can keep refineries running even as the state aims to lower oil use. Refineries also produce plastics and chemicals based on methane, he said.
"You conceivably prolong the life of some refineries," Alex said.
Enforcement comes in waves
The new facilities needed include both anaerobic digestion plants that turn methane into energy, and plants that turn food waste into compost. All of that infrastructure is estimated to cost $4 billion to $7 billion.
Most of those new facilities would likely be anaerobic digestion plants, Scherson said, because they're better able to handle food waste. Compost plants more easily process yard debris. Right now there are very few anaerobic digestion plants in the Golden State, said Edgar of the compost trade group.
The food recycling mandate applies to residential and commercial waste.
The law also aims to to reduce hunger. Supermarkets and other companies that deal with large amounts of food are required to donate 20 percent of edible but unused food to organizations that help people in need.
Local governments can get more time to implement their programs without facing enforcement actions, said CalRecycle. Additionally, there's a waiver and exemption process for rural, low population and high elevation areas.
The California law gives local governments two ways of complying with the mandate. One option is to give residents a green-colored trash can to fill with banana, orange and avocado peels and other food waste. Yard cuttings and dead leaves also go in that bin.
Cities can also pay to have a company separate the trash. Anaergia, the compost and renewable natural gas maker, runs a Los Angeles County plant that separates trash with machines that squeezes it "like a garlic press," Scherson said.
The system pushes out the organic matter, which then is turned into methane to make natural gas. That can be used to fuel trucks that collect the trash or to generate electricity.
CalRecycle, which will enforce the law, will focus on "compliance assistance and pursue enforcement for egregious offenders," the agency said. Nearly half of all local governments in the state have said they will have food waste pickup programs in place by Jan. 1, the agency said.
Starting in 2024, local governments can start targeting residential and commercial customers who fail to comply, CalRecycle said.
"Once mandatory organic waste collection service requirements for all Californians takes effect, in addition to full implementation of the surplus food programs, we expect to achieve the 2025 target," Lance Klug, an agency spokesperson, said in an email.
Reprinted from E&E News with permission from POLITICO, LLC. Copyright 2021. E&E News provides essential news for energy and environment professionals.