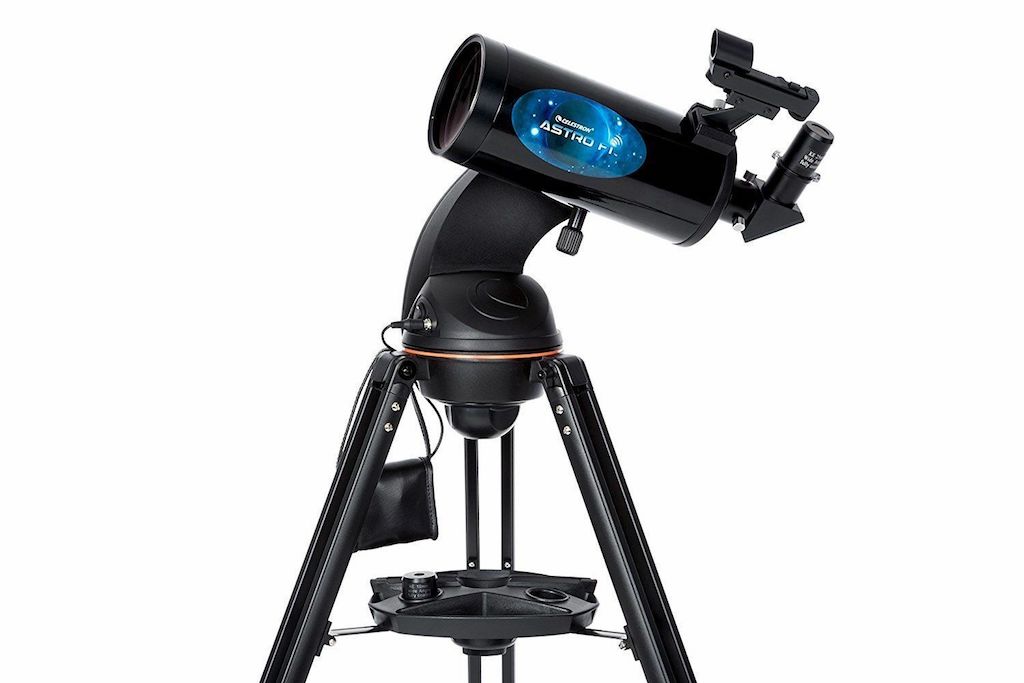 If you're hunting for a Celestron telescope, or even binoculars, then this guide will help you to choose a high-quality instrument destined to offer years of high-quality skywatching, while making the most of discounts. 
Celestron, alongside Meade Instruments, Orion, Vixen and Sky-Watcher, is one of the most popular telescope companies around with a plethora of options that suit all budgets. We've pulled together the best Celestron telescope deals available now and checked for the cheapest prices from reputable online retailers. 
If you're looking to buy a new Celestron telescope but aren't sure what you should be looking for yet, then you can start with our guide to the best telescopes or, if you have a specific need, then check out our guides for the best telescopes for beginners or best telescopes for kids. You can see a more varied view of instruments on offer now in our best telescope deals guide.
If, on the other hand, you're looking for something more compact and are not ready to commit to buying a telescope just yet, check out our best binoculars guides as well. We've also included some Celestron binocular deals in this list, too.
If you already have an idea of which piece of kit is right for you, but just want the best prices right now, then read on for a selection of the very best Celestron deals to suit a variety of budgets.     
Best Celestron telescope deals
Choosing the right telescope
Which telescope you choose depends on two very important factors: your level of skywatching experience and your budget. Whatever those are, Celestron has a wide range to choose from. 
Beginners are advised to go for a portable easy-to-assemble telescope at an introductory price of less than or around $200, such as the Celestron AstroMaster LT 70AZ or Celestron PowerSeeker 50AZ, while serious astronomers are well placed to make a larger investment. If you're in the latter position, then we recommend the Celestron AstroMaster 114EQ, Celestron StarSense Explorer LT 114AZ or Celestron AstroMaster 102AZ, depending on your budget.
With an increase in budget, comes an improvement in the type of technology that has become prevalent in telescope manufacturing: computerized, or GoTo, mounts. At the touch of a button, these revolutionary instruments are able to slew to your chosen target without needing to use sky maps to find your way around the night sky. The Celestron NexStar 4SE is a great option if you're keen on combining tech with your observing sessions.
If the telescope isn't for your use and your kids have been bugging you for one, then the Celestron FirstScope 76 are the perfect choices since they require very little maintenance, are easy to use and are small enough to store in a cupboard. What's more, their robust build exudes quality for a basic build, offering years of usage and for very little investment — an excellent combination for parents, who suspect that skywatching might be a passing phase.
The Celestron telescope models we have introduced are perfect for views of the solar system, with notable targets being the craters and seas of the moon and bright sights of Jupiter and Saturn. They will also provide good observations of bright deep-sky objects such as the Orion Nebula in the constellation of Orion (the Hunter) and the stunning Pleiades star cluster in Taurus (the Bull).
Those keen on a substantial step up in quality and closer views of targets will need to consider increasing their budget for a larger objective lens or aperture — that is the "light-gathering" ability of a telescope. For magnified views of the planets, galaxies and nebulas, the Celestron AstroMaster 114EQ, Celestron StarSense Explorer LT 114AZ and Celestron NexStar 4SE are all worth a look.
Best Celestron binocular deals
Choosing the right binocular
When buying your Celestron binoculars we recommend looking for at least a magnification of 7x or 10x, along with an aperture of at least 42 mm. You should also choose a Porro prism design, while fully multi-coated optics and BaK-4 prisms are a must for crisp and clear observations. Nitrogen-purged designs are a massive plus and keep fogging and condensation at bay during your tours of the universe. 
As your objective lens size increases, so does the weight of your binoculars. Anything larger than 50 mm will require a tripod for stable skywatching. An important skill to master for optimum views of the night sky is learning how to hold your binoculars steady — once you've achieved this, your chosen night-sky targets will truly be sights to behold.
If portability is your main aim and you're looking to use your binoculars for a combination of travel, skywatching and terrestrial views, we recommend the Celestron Outland X 10×42, which will give you more bang for your buck. The Celestron Outland X 10×50 are also a great option and are comfortable to use for reasonably long periods of time. Observations of nebulas such as the Orion Nebula (Messier 42) and Andromeda Galaxy (Messier 31) are even better with the larger objectives.
If, on the other hand, you're wanting to collect as much light as possible and would rather not invest in a telescope just yet, the Celestron 20×80 SkyMaster Pro is an excellent choice with very good eye relief for spectacle wearers and provide high-definition observations — just make sure to invest in a tripod for effortless viewing.  
Deals you missed
Sadly, deals don't stick around forever. When a discount has ended or an item is no longer in stock, we'll move it here to show you that it's no longer available. That way, you can still compare current deals to past offers.