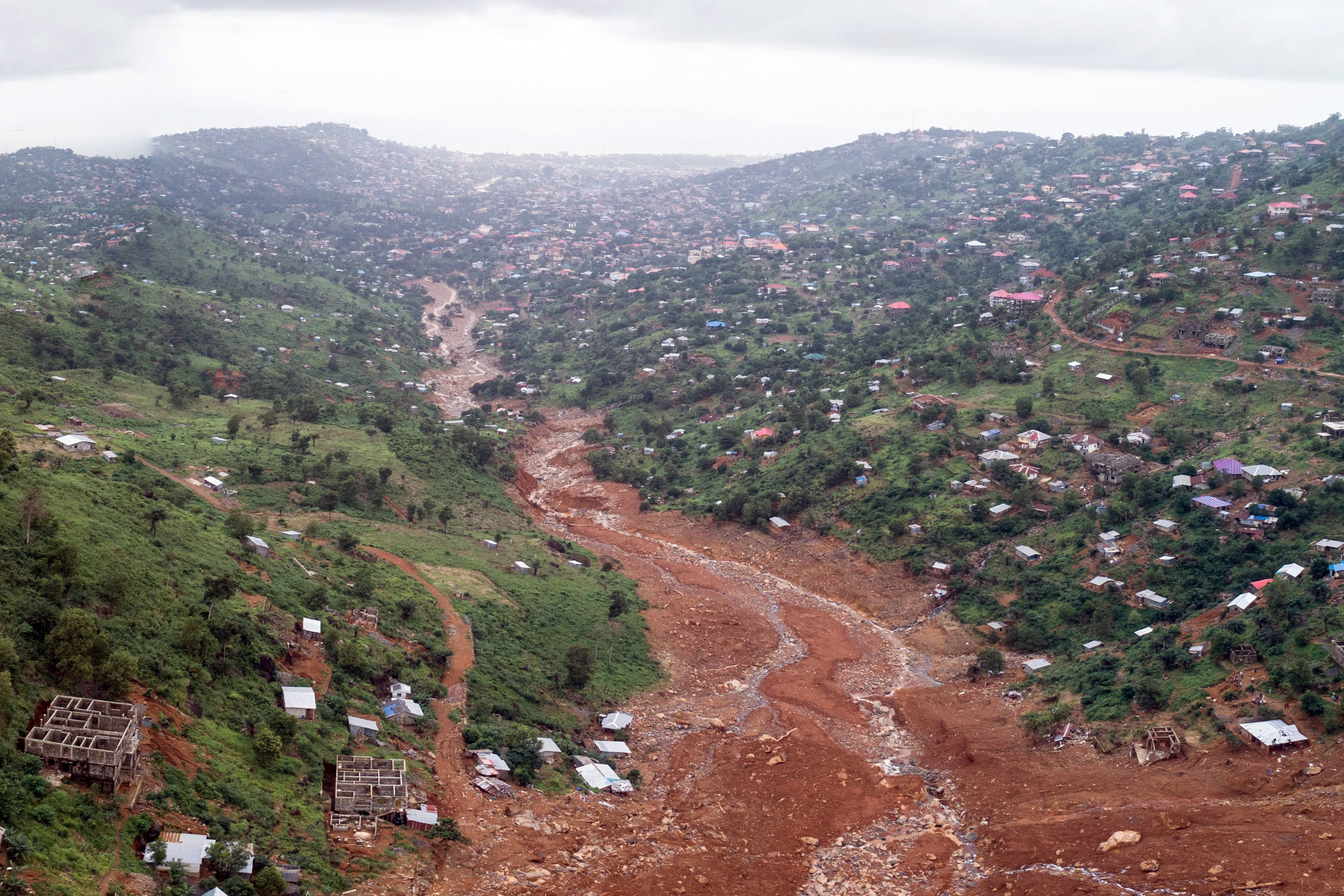 A devastating mudslide ripped through Sierra Leone's capital of Freetown in August 2017, burying homes and killing at least 1,100 people. Triggered by weeks of unusually heavy rain, it was one of the worst environmental disasters the region had experienced in years.
More than four years later, scientists are concerned that it could happen again. Rainstorms and floods in parts of coastal West Africa are expected to grow more severe as the climate continues to warm.
And deforestation may be making the situation even worse, according to new research.
A study published this week in Proceedings of the National Academy of Sciences finds that deforestation helps increase the frequency of afternoon storms in parts of coastal West Africa. The bigger the clear-cut area, the more the storms are enhanced.
That's because forests help regulate the local climate, according to the authors of the study, led by Christopher Taylor of the U.K. Centre for Ecology and Hydrology.
In tropical areas, trees tend to have a cooling effect. When these forests are destroyed, the surrounding area warms up.
What exactly that means for local rainfall patterns depends on the area.
In some places, like the Amazon rainforest, studies have found that deforestation actually causes the area to dry out. Trees help add moisture to the atmosphere, while deforestation has the opposite effect.
But in coastal West Africa, nestled close to the ocean, it's a different story. Warmer temperatures over land strengthen the sea breeze blowing in from the water. The breeze helps trigger the formation of thunderstorms.
The result is more heavy rainstorms.
Because of climate change, "the whole region has seen an increase in the frequency of convective storms," Taylor told E&E News in an interview. "But areas which were deforested have seen a much stronger increase than areas where we haven't seen deforestation in the last 30 years."
In fact, the heavily deforested areas are now seeing twice as many storms than they experienced 30 years ago.
The researchers analyzed three decades of data to carry out their study, focusing on a lush strip of southern West Africa spanning from Guinea to Nigeria. They looked at both land-use change and satellite observations of thunderstorms across the region.
They found that much of southern West Africa has experienced an increase in deforestation over the last three decades. They also found that areas with greater deforestation have experienced greater increases in the frequency of storms than surrounding areas.
In other words, deforestation compounds the effects of climate change, making storms even worse.
The study region includes a number of heavily populated cities. Freetown is there, along with Conakry, the capital of Guinea, and Monrovia, the capital of Liberia.
In these urban areas, deforestation is already known to increase the risks associated with flooding. Taking out trees can loosen the soil, increase the amount of water runoff and raise the odds of catastrophic landslides.
The new study highlights "a second, and previously unrecognized, impact of deforestation on flooding, as experienced in some of the least resilient cities on Earth," the authors write.
The findings suggest that deforestation is making severe storms even worse — on top of the influence of global warming, which is already increasing the risk of heavy rains and floods. Recent studies have suggested that extreme rainfall events, the sort that can cause damaging floods, are growing more intense in southern West Africa.
That means local officials may need to plan for an even worse climate future than they'd expect from global warming alone. Building resilient infrastructure — bridges, roads, buildings and other structures that will withstand climate disasters in the future — may need to account for both factors.
"Climate models might suggest a modest increase in their frequency of storms," Taylor said. "But actually, locally where there's deforestation going on, it might be much larger."
In places like Freetown, local communities are working to slow deforestation. But the effects of warming are relentless as long as greenhouse gases continue to pour into the atmosphere.
Speaking at an event hosted during the most recent United Nations climate conference in November, Yvonne Aki-Sawyerr, the mayor of Freetown, highlighted the growing risks climate change is posing to her city.
Unpredictable rains — including both an increase in droughts and extreme storms — are a threat to agriculture, she noted, resulting in an increase in climate-related migration into the cities. More settlements are rising up along the mountains, resulting in an increase in local deforestation.
That makes these communities even more vulnerable to flooding and landslides.
"What we aren't talking about enough is the fact that climate change, for millions and billions of people, is not something that's going to happen — it's something that has happened," Aki-Sawyerr said. "And the consequences of that are severe."
Reprinted from E&E News with permission from POLITICO, LLC. Copyright 2021. E&E News provides essential news for energy and environment professionals.