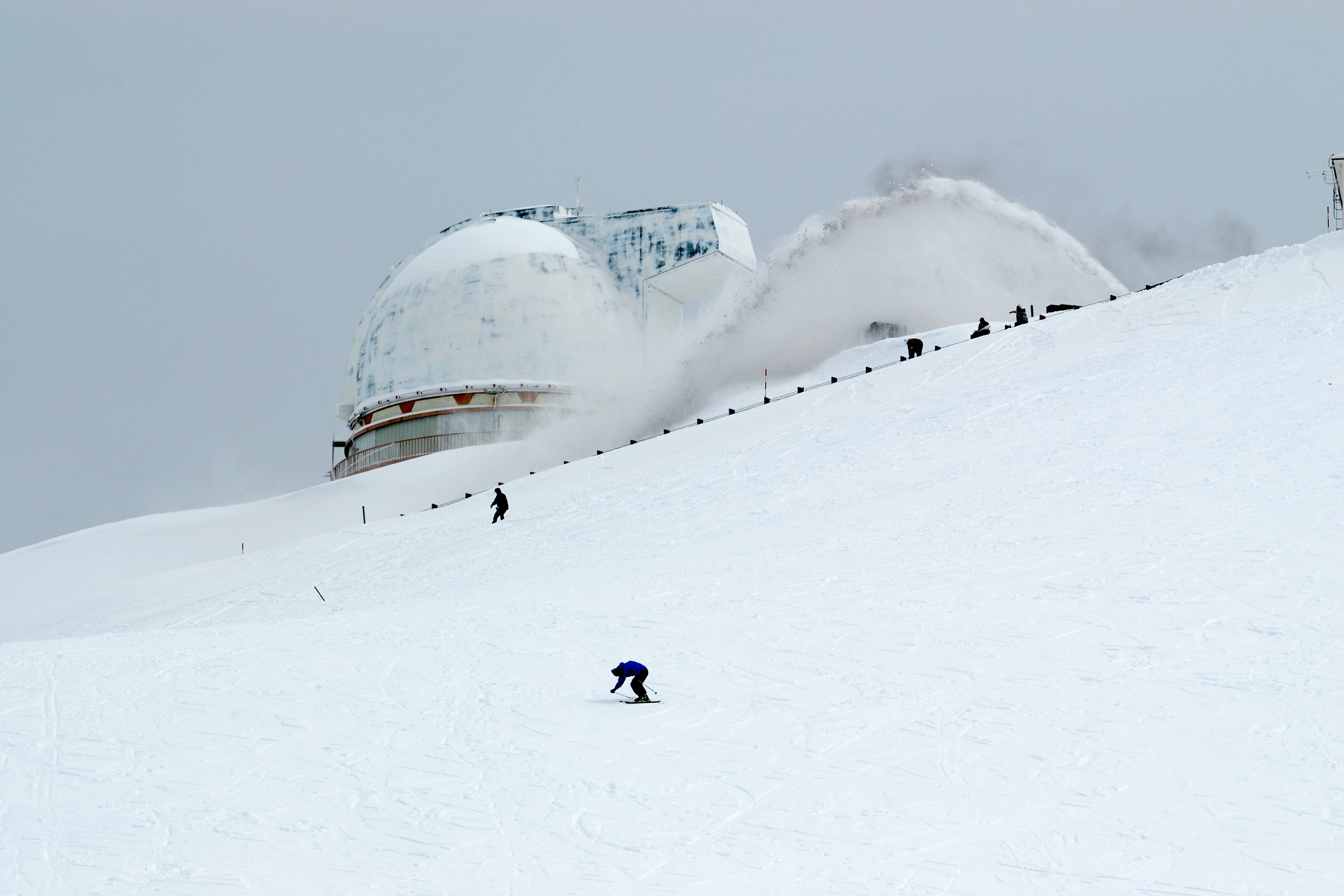 Hawaii saw record temperatures over the weekend. Not for heat. For cold.
Nighttime lows on the island of Oahu plunged to 56 degrees Fahrenheit — breaking a nearly 60-year record for what passes in Hawaii as extreme cold. Saturday's daytime high was 70 degrees, the lowest on record, beating 76 degrees in 1965.
And temperature was not the worst of it.
Driving rain and relentless winds slammed Hawaii, as well — gusting to 40 mph in Honolulu and twice that speed atop Mauna Kea and Mauna Loa, twin dormant volcanoes on the Big Island whose peaks reach more than 13,500 feet.
It was enough that the National Weather Service issued a blizzard warning as falling snow created near-whiteout conditions atop the mountains, accumulating to as much as a foot in some areas.
Meteorologists call the weekend storm that could last through tomorrow a "kona low." Hawaii State Climatologist Pao-Shin Chu said it was linked to a meteorological phenomenon known as the Pineapple Express. The term refers to moisture-laden atmospheric rivers that form in the Pacific and can rake Hawaii as they track eastward.
"It can stay there for many, many days, sometimes a week, without moving, and it can dump a lot of rain," Chu said.
The Hawaii Emergency Management Agency said up to 25 inches of rain could fall between Sunday and Wednesday. "That's TWO FEET OF RAIN," the agency tweeted in all caps. "Take precautions and look out for your family members and neighbors."
Yesterday morning, Honolulu County officials warned of "overflowing cesspools, sewer, manholes, pesticides, animal fecal matter, dead animals, pathogens, chemicals, and associated flood debris."
Schools and courts closed in Maui County amid rising risk from flooding and landslides. Forecasters said the low was slowly moving from east to west, and by this morning, rain should begin tapering off on the eastern islands.
From his office at the University of Hawai'i, Manoa, Chu said the storm is among the largest he's seen in more than 30 years of observation.
Warmer ocean temperatures and a northward shift of subtropical atmospheric rivers — both signatures of climate change — may be intensifying the storm, he said, but such hypotheses require more research.
Kona lows happen regularly in Hawaii, sometimes twice a year, Chu said. Previous studies indicate kona lows may happen less frequently as a result of climate change. But those results were published a decade ago, before a marked increase in the frequency and intensity of extreme weather events, he said.
The primary climate signature of this storm is extreme precipitation and hurricane-force winds that are worsening flash flooding in coastal areas and blizzard conditions in the mountains.
On Mauna Kea and Mauna Loa, temperatures hovered around freezing yesterday, while snow eclipsed views of Mauna Kea's summit and astronomical observatories. Winter snow is common at those high elevations, Chu said, but yesterday's conditions called for extraordinary measures.
"The access road to the summit of Mauna Kea will remain closed today due to icy road conditions, flurries, high winds and fog with poor visibility. The forecast also calls for heavy snow and convection," officials at the Mauna Kea Weather Center said at 8 a.m. local time.
The Maunakea Rangers were monitoring the mountain for stranded vehicles and individuals, while weather center officials expressed gratitude to those heeding the blizzard warnings.
"Mahalo for your patience and understanding," they said.
Reprinted from E&E News with permission from POLITICO, LLC. Copyright 2021. E&E News provides essential news for energy and environment professionals.