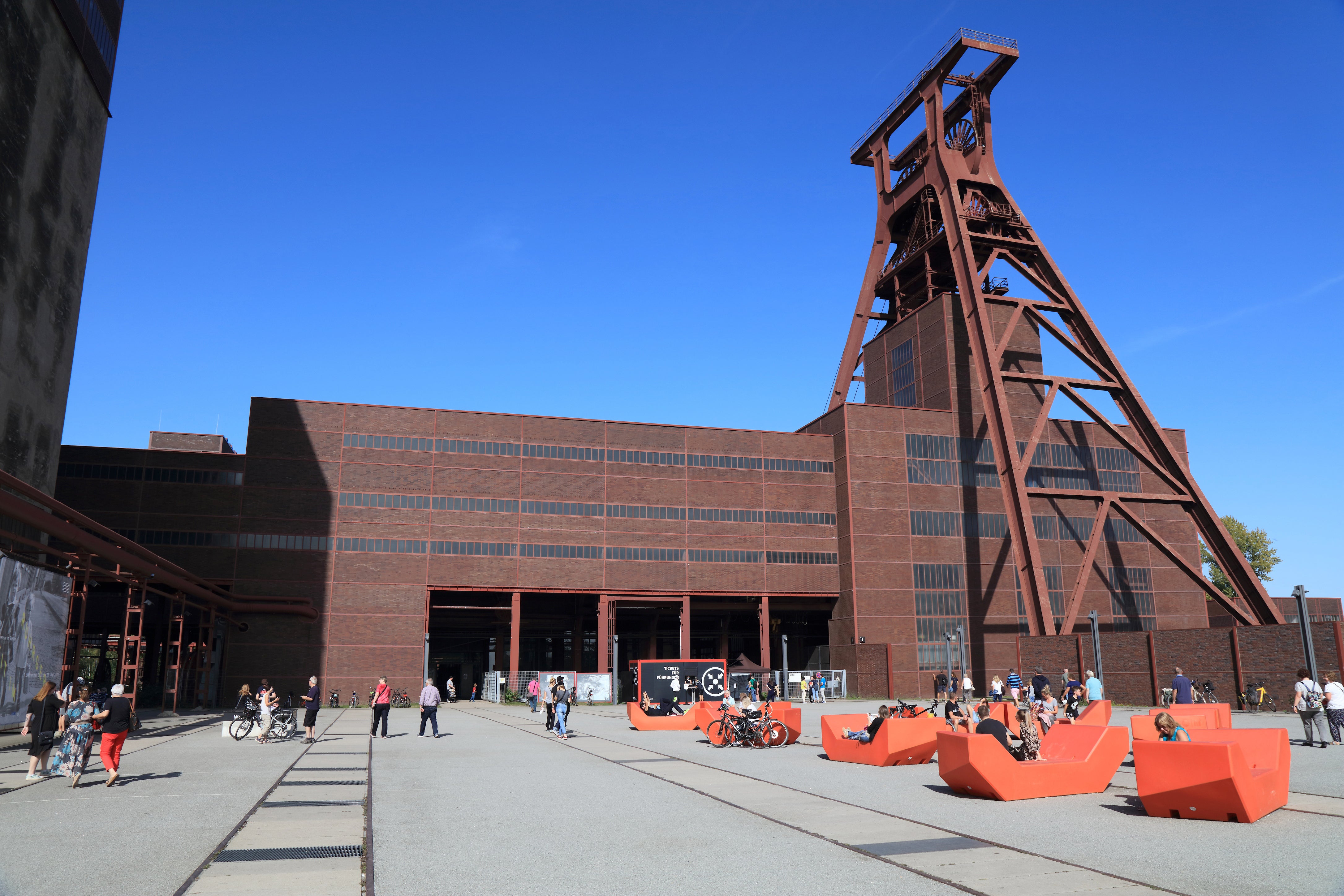 ESSEN, Germany — In a coal heartland of Germany stands a monument to the source of its economic might: a giant mine more than a half-mile deep that once produced the largest amount of coal in the world.
Built at the beginning of the Industrial Revolution, the Zollverein mine cemented Germany's place as a coal behemoth. And its legendary Shaft XII was hailed as a feat of technology due to its high level of automation.
By 1986, however, it had become more expensive to extract coal in Germany than to import it from places like Russia and the United States. The mine was decommissioned, and the facility was eventually turned into a cultural center.
Now Zollverein stands as a sprawling museum complex for coal's history and is a dedicated UNESCO World Heritage site. The iconic image of Shaft XII's pithead is scattered throughout the city of Essen as an unofficial trademark of the Ruhr region.
The transformation of this region remains a work in progress. But it is often held up as an example of how a country that has built its fortunes on the world's most polluting fossil fuel can untangle its addiction.
For the United States, the model here offers lessons for transitioning to clean energy. But two pillars of the Germany experience — money and planning — seem increasingly out of reach as climate policy unravels in Washington.
Planning for an exit
Germany remains the largest coal consumer and producer in Europe, despite its plans to reach net-zero emissions by midcentury. In 2020, the government enacted a law that makes 2038 the final year for coal use. Now there are plans to reach that goal by 2030.
Germany's coal transition has focused on providing economic support to workers and coal-dependent regions. It has helped build up other industries and diversify regional economies to provide jobs as coal disappears.
That framework was developed by disparate voices who came together to negotiate the transition. Trade unions, environmentalists, coal executives and lawmakers agreed to the phaseout. It was a hard-fought compromise.
Environmental activists said the phase-out date was too late, while other critics said too much compensation was going to the companies that had caused the problem to begin with.
It could be harder for the United States to navigate a similar path, particularly with President Biden's signature climate legislation set to collapse under opposition from coal-state Sen. Joe Manchin (D-W.Va.).
"Germany has a lot of built-in advantages over the United States because of the social and economic choices they made after the end of [World War II]," said Lee Anderson, government affairs director for the Utility Workers Union of America (UWUA).
"When we learned that their government had brought together all of the suspects — industry, labor, communities — and spent something like 18 months putting together a national plan that covered how they were going to phase out coal over the course of two decades, the American imagination fails. You can't conceive of such a thing happening in this country," he said.
Anderson was part of a small group of union representatives and advocates from the U.S. that visited Germany in 2020 to see how that country was handling its coal transition. They visited mine sites and reclamation areas, and met with affected communities.
Anderson said they brought that information home and started baking it into policy documents aimed at emulating what Germany was doing.
An analysis UWUA published with the Union of Concerned Scientists last May argued that the Biden administration would need to invest up to $83 billion over the next 15 years to support coal workers and communities as the country shifts to a low-carbon economy.
It called for five years of wage replacement for displaced workers, and continued health care coverage and education benefits for workers and their children. The idea was that more support and better planning could ease the pain of an impending coal exit.
"The transition is happening. It's just happening haphazardly and without foresight and without thought, and that is the most difficult way to approach it, from a community perspective, but especially for the workers," said Jeremy Richardson, a former senior energy analyst at Union of Concerned Scientists.
The proposals in the analysis were crafted into legislation that made their way into negotiations on the reconciliation package, said Anderson. The $1.7 trillion package, known as the "Build Back Better Act," faces collapse following Manchin's announcement of opposition last month.
"There are a couple of really important pieces in the 'Build Back Better Act' that would really, really help communities and workers," said Richardson, who has roots in West Virginia's coal mining towns. "It's really a tragedy that it's in jeopardy."
'This won't work'
Germany's coal exit is still underway. Its initial phase focused on what it terms "hard coal," the type typically mined in U.S. coal states like Wyoming and West Virginia for use in industry and electricity generation.
The last hard coal mine closed in 2018, but lignite or "brown coal," a type of wet coal that emits far more carbon dioxide when burned, will continue to be mined until the end of this decade, when Germany will end coal use entirely, according to a proposal by Germany's new government.
Coal generates about a quarter of Germany's electricity, down from half at the turn of the century, and employs around 25,000 people directly, according to the German Trade Union Confederation.
The U.S. has also seen its reliance on coal-fired power fall to about 20 percent of the energy mix with 28 percent of current capacity set to be retired by 2035, according to the Energy Information Administration. The mining industry now employs around 40,000 workers.
But Germany has been more willing to pour money into the transition.
A case study by Resources for the Future and the Environmental Defense Fund says large-scale government investments and industrial policies are "central aspects" of Germany's approach.
As part of the earlier phaseout plan, German lawmakers passed legislation setting aside more than €40 billion ($45.2 billion) over the next two decades to help areas that will lose jobs and income as coal dries up.
"That's the benefit of a well-managed transition process, because then you don't only look at merely replacing the jobs in coal with other jobs, but you really take this as an opportunity to further develop an entire region and provide better public services, provide more green spaces, make it more attractive for tourism and the people living there," said Rebekka Popp, a policy adviser at E3G in Berlin.
Germany's strong labor laws and social safety net have also helped ease the transition by ensuring workers get unemployment benefits, retain health care, have access to vocational training and job placement centers, and can opt for early retirement.
That's something the United States could struggle to replicate.
"Realizing that you need to plan ahead and need to plan for a future with less coal or without coal, that really helps," said Timon Wehnert, a senior researcher at the Wuppertal Institute in Berlin.
A phaseout is necessary if countries are to meet increasingly ambitious climate goals. Under the Biden administration, the U.S. aims to slash its emissions in half by 2030. Germany's target is a 65 percent reduction.
But Germany won't be able to hit that mark without accelerating its coal phase-out date from 2038 to 2030. The new government proposed that new timeline after the departure of Chancellor Angela Merkel last month.
That's creating concerns about fairness for miners.
"It is necessary that the new government gives a clear sign that no one is left behind," said Frederik Moch, head of the department for structural policy, industry and services at the German Trade Union Confederation.
Just before the new government took office in December, it released a governing plan stating that no one will be left without a job due to the coal phaseout and no additional compensation will be paid to companies.
It also aims to expand renewable energy capacity from half at present to 80 percent of the power mix by 2030.
"We can't replace 25,000 workers in coal with new jobs in the renewables sector in these regions. This won't work. So it is a question of what other industries, other areas can develop and build up new value chains there," said Moch.
Compounding impacts
The solutions will differ by place, and Germany has put an emphasis on tailoring solutions to local communities based on their input.
The same will be needed in the U.S.
In one area, outdoor recreation may be the best answer. In another it may be manufacturing for clean energy components, said Richardson of the Union of Concerned Scientists.
"It's just figuring out the kinds of things that can connect these communities to what the new opportunities are — and that has to be place-based," he said.
There are provisions in the infrastructure bill passed by Congress in November that could help by carving out money for broadband internet expansion or reclaiming and redeveloping abandoned mine land.
The Biden administration also created an interagency working group to help revitalize coal and power plant communities. It has identified $45 billion in federal funding that those communities could tap for infrastructure investments, environmental remediation and community development (E&E News PM, Dec. 15, 2021).
But much more will be needed.
Boone County, W.Va., was once the highest-producing coal county in the state. It saw a sharp decrease in production more than a decade ago. Jobs and tax revenue followed. The sheriff's office is now facing a staff shortage due to budget cuts.
"There is this compounding impact, not only to the workers themselves but to the communities and the regions where they are situated," said Jessica Eckdish, vice president of legislation and federal affairs at the BlueGreen Alliance, which organized the trip to Germany in 2020.
"The reason to make those investments now is to support the workers and communities where this is happening now, but to try and get ahead of those impacts down the line as well."
Reprinted from E&E News with permission from POLITICO, LLC. Copyright 2021. E&E News provides essential news for energy and environment professionals.