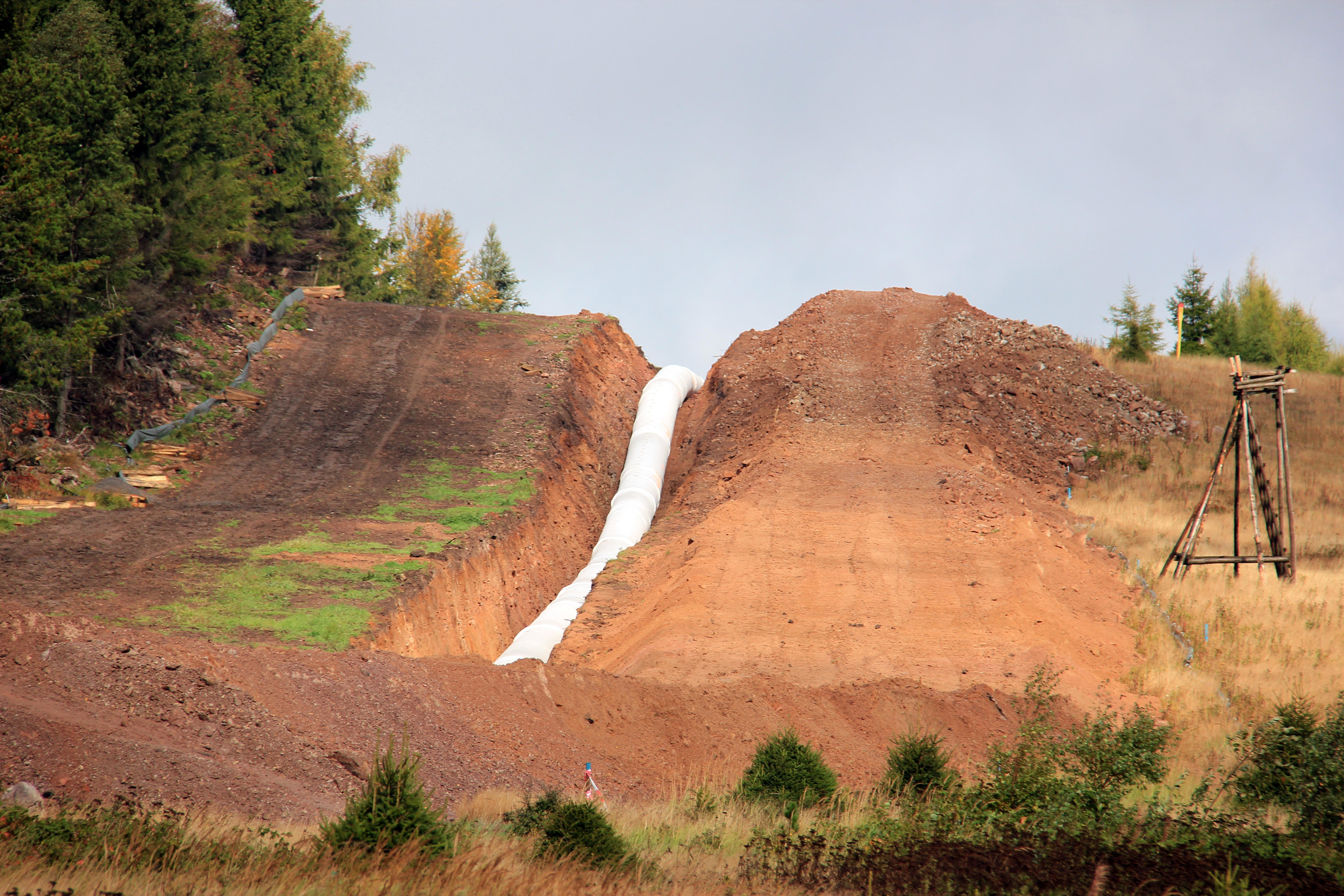 Russia's invasion of Ukraine is expected to add more urgency to Europe's efforts to break its dependence on Russian oil and gas, as well as compel Europe to accelerate its transition to cleaner energy, say experts and E.U. officials.
But those efforts won't come quickly or easily. And they'll involve some difficult compromises.
Discussions about moving faster toward alternative sources of energy began months ago as oil and gas prices started to rise. And they intensified in recent weeks as Russia moved closer to war—a threat that raised the possibility that already-low supplies of gas could be further squeezed if Russia shut off the taps.
During a visit to Washington earlier this month, European Commissioner for Energy Kadri Simson said the European Commission—which serves as the European Union's executive branch—was negotiating with member states to have 40 percent of energy demand covered by renewables.
She also promoted a major boost for offshore wind and highlighted efforts to speed permitting for renewable energy projects, improve energy efficiency in buildings and invest in hydrogen development.
"We have to reduce dependency on Russian gas, diversify our suppliers and invest in renewables," Simson wrote in a tweet on Tuesday following a meeting to discuss E.U. energy security.
This week's invasion drove home the risk of Europe's reliance on Russian gas—particularly for the countries that see it as a bridge that can help them make the transition toward renewables, said Michael Mehling, deputy director of the Center for Energy and Environmental Policy at the Massachusetts Institute of Technology.
One of those countries is Germany, which has been working to ramp up its wind and solar capacity at the same time it has shuttered coal-fired power plants and nuclear facilities. Gas has been viewed as the reliable fuel that would get the country through the transition—with one major caveat.
Germany currently receives about half its gas supply through pipelines from Russia, and it doesn't have the infrastructure to take shipments of liquefied natural gas from elsewhere.
"So they've been kind of willing to deal with the Russians and to consider the Russians as a reliable supplier," said Samantha Gross, director of the Energy Security and Climate Initiative at the Brookings Institution.
Part of that stemmed from the belief that the arrangement was mutually beneficial, she added. Germany takes in Russian gas, and Russia gets the revenue. But as Russian gas flows have slowed, Germany's feeling of reliability has shifted.
That realization could upend the status quo.
"I think it will lend further support to the not only environmental imperative of decarbonization but also the strategic imperative of becoming energy independent with locally available renewables," said Mehling.
German Vice Chancellor Robert Habeck echoed that point in comments yesterday to the Associated Press. Habeck said Russia's invasion strengthened the case for energy independence through renewables.
"People see that it is not only a climate-related issue, but a safety- or security-related issue right now," he said.
An energy transition will be easier for some European countries than others. That could mean a return to more-polluting fuels in places such as coal-reliant Poland, where renewables have a long way to go.
"If the alternative is to stay fully on course with decarbonization but at the expense of sky-high energy prices or greater vulnerability vis-à-vis countries that aren't necessarily revealing themselves to be good, reliable partners, I think politically it will be hard to go that first course," Mehling said. "Clearly, you will see compromises being made."
Those compromises are unlikely to soften the broader climate ambitions set out by the European Union, some of which are enshrined in law. E.U.-wide legislation passed last year, for example, aims to cut greenhouse gas emissions by 55 percent by 2030.
But there is a lot of room for shuffling around which sector does what and when, said Mehling.
Minding the gap
An analysis by global energy consultancy Wood Mackenzie found that a mild winter combined with an increase in supplies of liquefied natural gas from the United States and elsewhere helped boost gas storage volumes—putting Europe in a better place than it was in at the start of the winter.
In the short term, Europe will be able to manage, said Georg Zachmann, a senior fellow at Bruegel, a Brussels-based think tank. But beyond the summer, there will be a supply gap, just when demand for fuel used in home heating starts to rise.
Filling that gap without gas could mean relying more on coal power and bringing some mothballed nuclear and coal plants back online or reducing demand among households and the industrial sector.
"It's essentially managing the gap and seeing what different member states are going to bring to the table to fill this gap," Zachmann said.
"The flexibility is there, but each of the options is worse than just burning Russian gas; otherwise, we wouldn't have burned Russian gas in the first place," he added.
Mehling anticipates more discussion about the role that supply chains and trade will play in moving toward a low-carbon, energy-secure future—and the way different policies will be used against unreliable trading partners.
An E.U. plan to tax carbon-intensive imported goods could include some costly impacts on countries such as China and Russia, which have far weaker environmental standards.
"I don't just think it will be one piece," Mehling said. "I think there will be small movements on many fronts rather than a big movement on one front."
Much will depend on what narrative prevails among European lawmakers, said Zachmann.
"If the narrative prevails that this is a political moment—[that] we need to wean ourselves off Russian gas because that is only causing trouble in the long term and we need to accelerate our transition—it could be a catalyzing moment," he said.
A blow for Russia?
All that could change if the invasion expands beyond Ukraine. And depending on how long the conflict lasts, it could affect U.N. climate talks later this year, when countries are expected to arrive with revised targets for cutting their planet-warming emissions.
Few countries need to revise their targeted emissions cuts more than Russia, say observers.
And that concerns Oldag Caspar, head of German and European low-energy policy at Germanwatch. He said Russia's invasion of Ukraine likely will deal a significant blow to Russia's efforts to "future proof" its economy. It also would slow recent attempts to develop more positive climate policy.
While some circles still expect global warming will be a net positive for Russia, Moscow increasingly has acknowledged the need to address rising temperatures. Among the risks to Russia are massive wildfires in Siberia and infrastructure damage from melting permafrost.
In its rush to give up Russian gas, Caspar worries that Europe will leave Russia on the sidelines rather than help it move toward a new business model that depends less on raw resources.
Another concern is that geopolitical tensions could drive Russia toward China or into isolation—including on issues that could affect the climate.
"If sanctions affect Russia's access to markets in Western countries, then they'll have to seek economic opportunities elsewhere, which will mean they'll take whatever hydrocarbon opportunities—whether it be oil, gas, coal—wherever they can sell it," said Ian Hill, New Zealand's former ambassador to Russia.
Russia has drawn closer to China recently. Russian President Vladimir Putin met with Chinese leader Xi Jinping earlier this month in Beijing, where they issued a joint statement opposing the creation of barriers in international trade under the pretext of fighting climate change.
But Russia can't just switch its exports to China, because it doesn't have the infrastructure in place. Gas supplies destined for Europe come from different fields and go through different pipelines.
For now, Russia may be operating under the assumption that the transition to a lower-carbon economy will proceed more slowly than what some countries expect, Hill added.
Russia's energy minister suggested as much in an interview Tuesday at the Gas Exporting Countries Forum in Doha, Qatar.
"One can dream and fantasize, but the real energy mix is in such a state that renewables remain unstable and expensive," he said in an interview with Energy Intelligence. "This means that traditional power generation must also be there."
Still, losing Europe as a major customer would leave Russia with few options to sell its gas—at least in the short term.
Meanwhile, for Europe, the transition doesn't need to be as painful as it sounds, said Zachmann from Bruegel.
But it would require cooperation across the continent.
"It's a question of managing the cost and distributing it fairly across partners, and then it can be done," he said.
Reporter Jean Chemnick contributed.
Reprinted from E&E News with permission from POLITICO, LLC. Copyright 2022. E&E News provides essential news for energy and environment professionals.