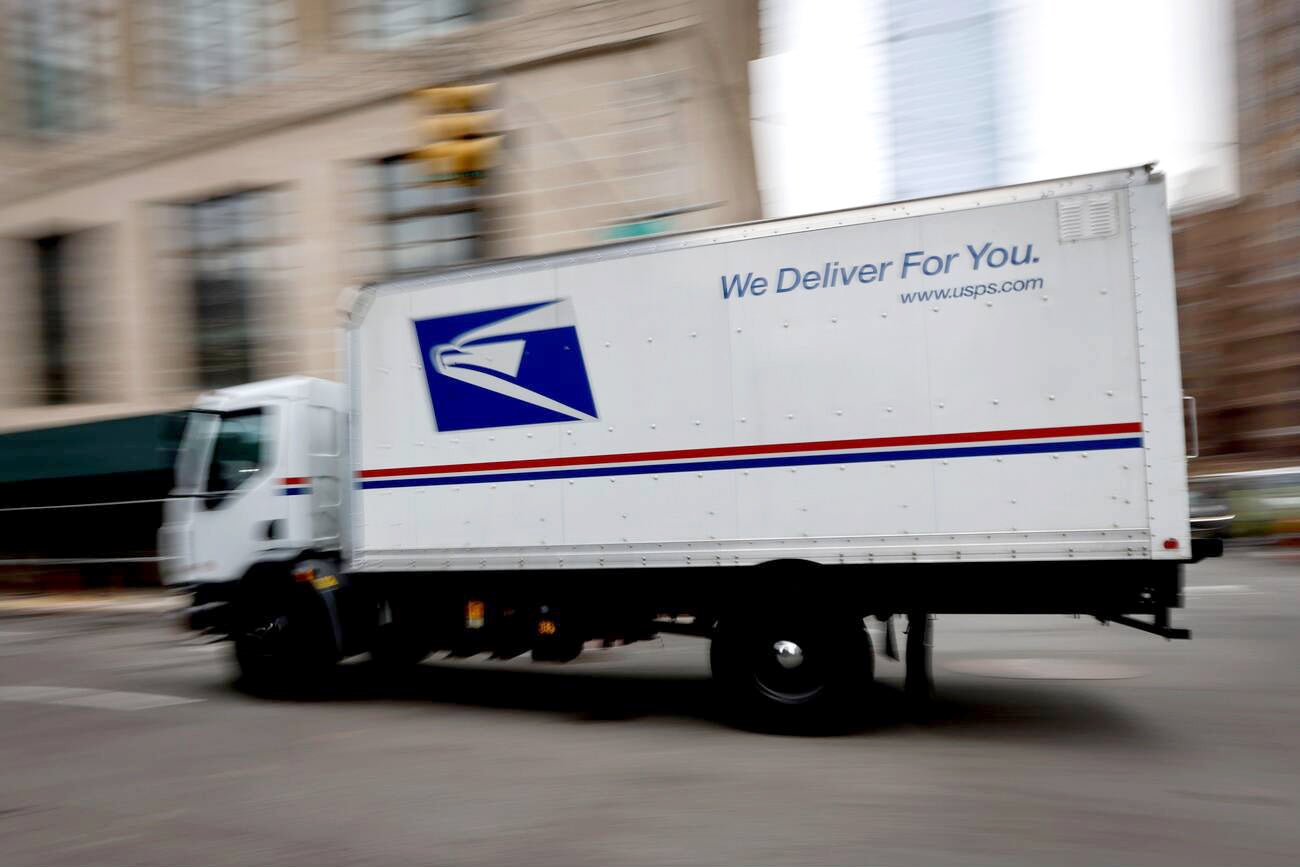 The U.S. Postal Service has finalized a plan to replace its aging mail trucks with mostly gasoline-powered models, defying calls for more electric vehicles from the Biden administration, Democratic lawmakers and environmentalists.
In a record of decision released yesterday, the USPS stuck with its proposal for a 10-year contract with Wisconsin-based Oshkosh Defense LLC to supply up to 165,000 new mail trucks, with only 10 percent required to be battery electric and the remaining 90 percent allowed to be gas-powered vehicles. The decision is the last step of the federal environmental review process and allows USPS to move forward with its first $482 million order.
EPA and the Council for Environmental Quality criticized USPS's analyses of emissions impacts and the future cost of electric vehicles in letters this month. The agencies called for USPS to halt progress on the contract (Climatewire, Feb. 3). "The Postal Service's proposal as currently crafted represents a crucial lost opportunity to more rapidly reduce the carbon footprint of one of the largest government fleets in the world," wrote EPA in a Feb. 2 letter.
Yesterday, USPS dismissed the Biden administration's criticisms and described the 10 percent EV baseline as "the most achievable alternative given the Postal Service's current financial condition." About $3.3 billion in extra funds would be necessary to transition the entire USPS fleet to battery electrics, it said, echoing earlier comments from its postmaster general, Louis DeJoy, a Trump appointee.
The issue underscores the challenges facing President Biden's goal, announced in an executive order last year, to convert all of the federal government's vehicles to zero-emissions models by 2035. The Postal Service is not a federal agency, meaning its board doesn't take orders from the president. But Biden's 100 percent ZEV goal applied to USPS as well. And with roughly 220,000 vehicles in its fleet, USPS has about a third of the vehicles covered in Biden's target.
Environmentalists and EV advocates pilloried the contract, accusing the Postal Service of bad-faith analyses and calling on Congress and the White House to intervene.
Katherine García, director of the Sierra Club's Clean Transportation for All Campaign, said in a statement that USPS was "clinging to a polluting past with its inexcusable and shortsighted dirty fleet plan."
Andres Hoyos, vice president of the Zero Emission Transportation Association (ZETA), called it an "ill-informed and costly decision" that would "lock Americans into an overwhelmingly gas-powered mail delivery system for generations to come." ZETA's members span electric automakers like Tesla Inc. and Rivian as well as charging providers, lithium companies and large electric utilities.
It's unclear if or how members of Congress or the White House might intervene to alter the Postal Service's procurements.
Sen. Tom Carper of Delaware, one of 19 Democrats that urged USPS to change course in a Feb. 4 letter, vowed further action yesterday. "Postmaster DeJoy, you haven't heard the last from me on this," wrote Carper on Twitter.
Ben Prochazka, executive director of the Electrification Coalition, pointed to the House's version of the "Build Back Better" package, as well as other bills that would include billions in new funding to help the Postal Service pay for battery electrics. Those measures—if passed—could address USPS's argument that it simply lacks the upfront funds to execute a switch to EVs, he noted.
"We're committing ourselves to something that could be, essentially, an obsolete technology," said Prochazka. "And it's for one of the most visible delivery systems in the country—everyone gets their mail from the USPS. … It's a sad moment that USPS is going to be so far behind."
Over the course of the contract, the Postal Service could increase its battery-electric orders from Oshkosh "as financial resources become available," according to a press release from the agency.
"As we have reiterated throughout this process, our commitment to an electric fleet remains ambitious given the pressing vehicle and safety needs of our aging fleet as well as our fragile financial condition," said DeJoy.
But in its earlier letter, the Postal Service rejected the EPA's requests to perform a supplemental environmental impact statement and hold new public hearings.
Those steps "would not add value to the Postal Service's already year-long review" and were "not legally required," said Mark Guilfoil, USPS's vice president for supply management, in a statement.
In the record of decision, USPS also hit back against EPA's criticisms from the Feb. 2 letter.
"That EPA disagrees with the Postal Service's conclusions does not change the fact that the Postal Service's analyses and assumptions are reasonable, based on credible sources, and reflect the Postal Service's superior expertise and extensive experience in the field of postal logistics and procurement," USPS wrote in the decision.
Earlier this month, the White House signaled the limits of its power to influence USPS's procurements. Climate adviser Gina McCarthy said the White House was "disappointed" with the gas vehicle-heavy contract but cited no concrete plans to intervene (E&E News PM, Feb. 10).
Reprinted from E&E News with permission from POLITICO, LLC. Copyright 2022. E&E News provides essential news for energy and environment professionals.