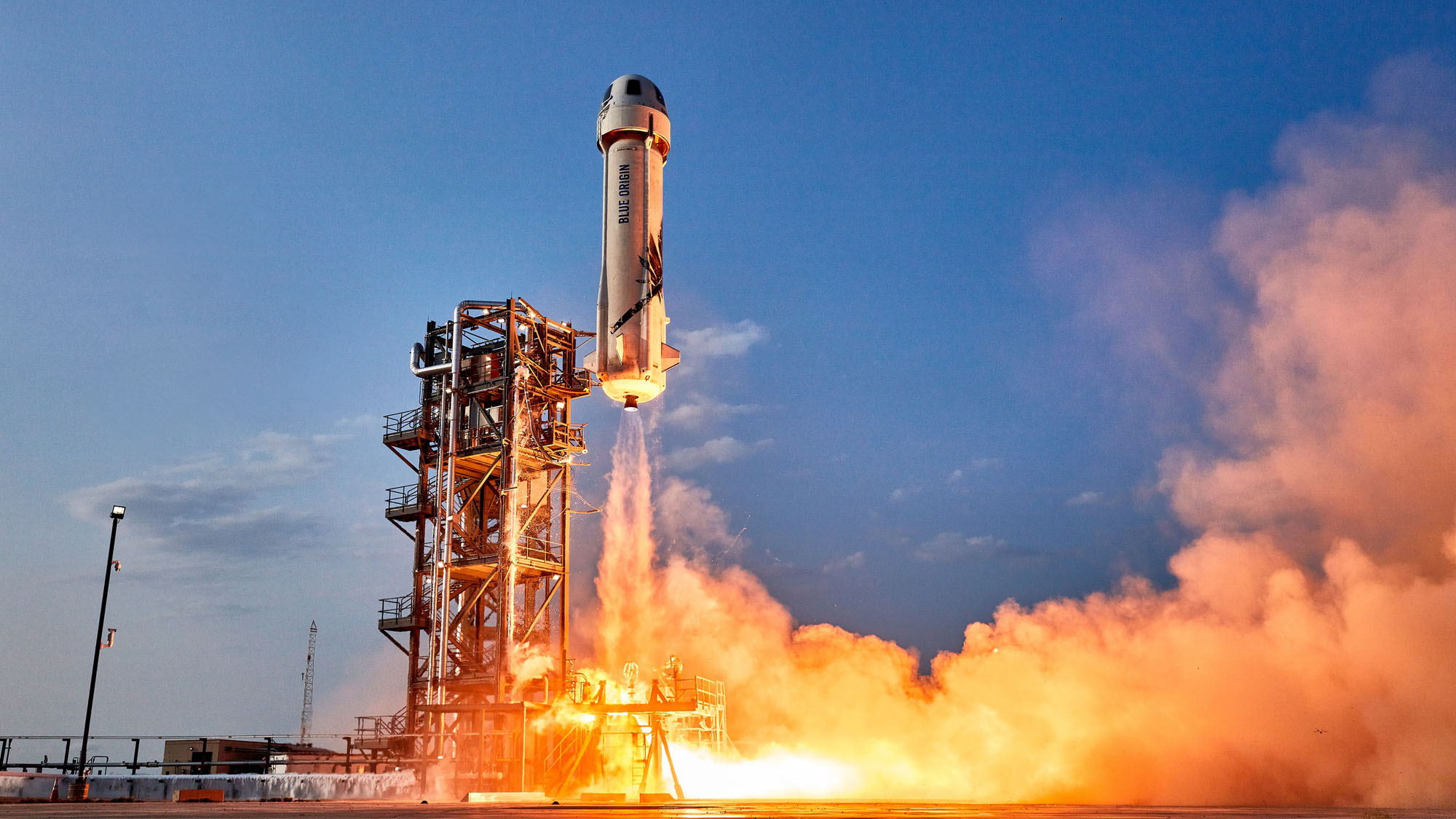 Blue Origin will launch its third space tourist flight on Saturday, Dec. 11, and you can watch it live here, courtesy of the company. Liftoff is set for 9:45 a.m. EST (1445 GMT). 
Live updates: Michael Strahan's Blue Origin Launch on New Shepard
The Blue Origin New Shepard NS-19 mission will launch Good Morning America host and former NFL player Michael Strahan on a suborbital flight with five other crewmates. He will fly on the 11-minute mission with Laura Shepard Churchley, eldest daughter of the late NASA astronaut Alan Shepard (first American in space) and four paying passengers. 
The paying passengers are Dylan Taylor, CEO of Voyager Space; Evan Dick, engineer and investor with Dock Holdings, LLC; Lane Bess, founder of Bess Ventures and Advisory; and Bess' child Cameron Bess, a content creator who studied Computer Science and Game Design at DigiPen Institute for Technology in Washington.
More: Blue Origin's launch with GMA anchor Michael Strahan explained
Blue Origin today announced the crew of its upcoming NS-19 flight on December 9 will include two honorary guests and four paying customers. Guests include Good Morning America co-anchor Michael Strahan and Laura Shepard Churchley, the eldest daughter of Alan Shepard, who was the first American to fly to space. The four customers include space industry executive and philanthropist Dylan Taylor, investor Evan Dick, Bess Ventures founder Lane Bess, and Cameron Bess. Lane and Cameron Bess will become the first parent-child pair to fly in space.
This mission furthers the company's vision of millions of people living and working in space for the benefit of Earth. It will be New Shepard's third human flight this year, the sixth for the program in 2021, and the 19th in its history. It will carry a full manifest of six astronauts to space for the first time.
Live launch coverage begins on BlueOrigin.com at T-90 minutes. Liftoff is currently targeted for 9:00 am CST / 15:00 UTC from Launch Site One in West Texas.
Also on board NS-19 will be a postcard from each astronaut flown on behalf of Blue Origin's foundation, Club for the Future, whose mission is to help future generations pursue careers in STEM and help invent the future of life in space. The Club's Postcards to Space program gives students access to space on Blue Origin's rockets.
Laura Shepard Churchley
Laura has dedicated her life to promoting what her father, Alan Shepard, started when he became the first American in space and the fifth person to walk on the Moon. Alan Shepard is the namesake of New Shepard. She currently serves as Chair of the Astronaut Scholarship Foundation Board of Trustees, a foundation that raises funds for college students and provides mentoring to scholars pursuing careers and research in STEM.
Michael Strahan
Michael is a two-time Emmy award winner, Peabody award-winning journalist, and Super Bowl Champion, who currently serves as a co-anchor on ABC's "Good Morning America" and host of the top-rated primetime game show "$100,000 Pyramid." Strahan additionally serves as an analyst for "Fox NFL Sunday" and headlines the Thursday Night Football Pregame Show live from New York City. Partnering with his longtime friend Constance Schwartz, Strahan formed SMAC Entertainment, a multidimensional talent management, music, branding, and production company which has become known for strong, diversified content, and its production of the "Nickelodeon Kids' Choice Sports Awards." Strahan is also intensely dedicated to charitable work, supporting the USO, HELP USA, Merging Vets and Players organizations.
Blue Origin invited Michael to join the crew of this flight. As a crew member, he will receive a stipend, which is being donated to The Boys & Girls Club.
Dylan Taylor
Dylan is an active pioneer in the space exploration industry as a CEO, investor, thought leader, and philanthropist. He is the Chairman & CEO of Voyager Space, a global space exploration firm headquartered in Denver, and the founder of the global nonprofit Space for Humanity, which seeks to democratize access to space. He is also co-Founding Patron of the Commercial Spaceflight Federation. Known for his commitment to creating positive impact in the world and leading Environmental, Social, and Governance (ESG) initiatives in the space community, Dylan was named a Henry Crown Fellow of the Aspen Institute in 2014 and a Fellow of the Unreasonable Group in 2021.
Evan Dick
Evan is an engineer, investor, and Managing Member of Dick Holdings, LLC. Evan formerly served as Senior Vice President for D.E. Shaw and Managing Director of Highbridge Capital Management, and is a charitable supporter of the Darwin Foundation and Population Relief International Corp. Evan is an ATP-rated pilot and volunteer for Starfighters Aerospace, as well as an avid sailor and motorcyclist.
Lane Bess
Lane is the Principal and Founder of Bess Ventures and Advisory, a family fund supporting technology firms that innovate and disrupt across multiple market sectors. Lane is best known for having helped start and build two of the most important cybersecurity companies in the public markets today, Zscaler (NASDQ) and Palo Alto Networks (NYSE). Lane also serves as a Trustee at Carnegie Mellon University and, along with his family, supports philanthropic interests across health and social issues.
Cameron Bess
Cameron is a content creator with a passion for creating and expressing themselves in ways that can brighten a person's day. After studying Computer Science and Game Design at DigiPen Institute for Technology in Washington, they've developed an engaged community across multiple platforms, producing original content and developing proprietary software to support their audience. Cameron identifies as pansexual and is proud to represent marginalized communities and hopes their journey can inspire others.
Follow Blue Origin on Twitter, Instagram, Facebook, LinkedIn, and YouTube, and sign up on BlueOrigin.com to stay up to date on all mission details.
About Blue Origin
Blue Origin was founded by Jeff Bezos with the vision of enabling a future where millions of people are living and working in space for the benefit of Earth. In order to preserve Earth, Blue Origin believes that humanity will need to expand, explore, find new energy and material resources, and move industries that stress Earth into space. Blue is working on this today by developing partially and fully reusable launch vehicles that are safe, low cost and serve the needs of all civil, commercial and defense customers. Blue's efforts to fly astronauts to space on New Shepard, produce reusable liquid rocket engines, create a highly-reusable orbital launch vehicle with New Glenn and return Americans to the surface of the Moon will add new chapters to the history of spaceflight and move us closer to fulfilling that founding vision. For more information about Blue Origin, please visit BlueOrigin.com.
---
'ISS Live!' Tune in to the space station
Find out what the astronauts and cosmonauts aboard the International Space Station are up to by tuning in to the "ISS Live" broadcast. Hear conversations between the crew and mission controllers on Earth and watch them work inside the U.S. segment of the orbiting laboratory. When the crew is off duty, you can enjoy live views of Earth from Space. You can watch and listen in the window below, courtesy of NASA.
"Live video from the International Space Station includes internal views when the crew is on-duty and Earth views at other times. The video is accompanied by audio of conversations between the crew and Mission Control. This video is only available when the space station is in contact with the ground. During 'loss of signal' periods, viewers will see a blue screen.
"Since the station orbits the Earth once every 90 minutes, it experiences a sunrise or a sunset about every 45 minutes. When the station is in darkness, external camera video may appear black, but can sometimes provide spectacular views of lightning or city lights below." 
Follow us on Twitter @Spacedotcom and on Facebook.