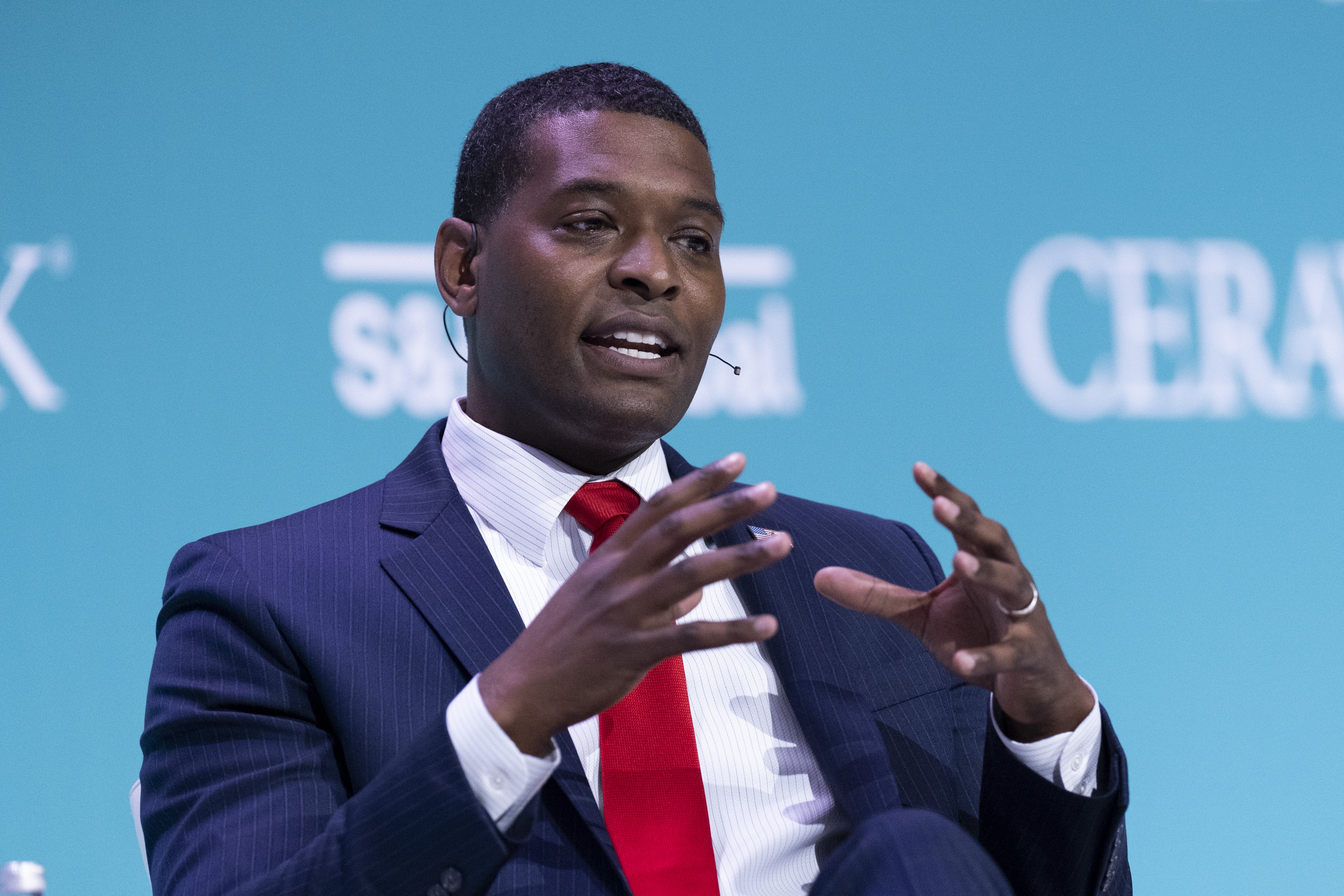 HOUSTON—EPA unveiled its plans yesterday for regulating the power sector, with greenhouse gas rules in a supporting role to limits on conventional pollution.
Describing his agency's regulatory blueprint at the CERAWeek by S&P Global conference here, EPA Administrator Michael Regan argued that regulations that would be rolled out in the coming year for mercury, ozone, water and coal ash would help finish the job on curbing climate pollutants that market conditions started by shifting U.S. power generation away from high-emitting coal.
That's the point, Regan said, of EPA previewing its regulatory plans in a broad swath instead of staggering their release by statutory deadlines.
"The industry gets to take a look at this suite of rules all at once and say, 'Is it worth doubling down on investments in this current facility or operation, or should we look at the cost and say no, it's time to pivot and invest in a clean energy future?'" Regan told reporters after his keynote address.
"If some of these facilities decide that it's not worth investing in [control technologies] and you get an expedited retirement, that's the best tool for reducing greenhouse gas emissions," he added.
Asked whether he was concerned that a challenge to EPA's greenhouse gas authority now before the Supreme Court could deal a blow to the agency's climate ambitions, Regan pointed to progress that could be made under other Clean Air Act and Clean Water Act rules.
"I don't believe we have to overly rely on any one regulation," he said.
EPA can still achieve greenhouse gas reductions using regulations on mercury and other toxic air pollution, soot and other fine particles, and other types of pollution like coal ash and water-based emissions, he said.
The coal industry would find little to applaud in Regan's strategy or in his remarks to the energy conference in which he described coal power as an aging technology that is "simply unable to compete with newer technologies that are dominating current market investments."
And EPA can expect pushback from coal's champions in Congress. Senate Environment and Public Works ranking member Shelley Moore Capito has already asked EPA for an accounting of its power plan based on reporting by E&E News and others, which her office said she has not received. The West Virginia Republican has accused EPA of using rules that target other pollutants as a workaround in case the courts rule that strict carbon standards are legally out of bounds.
And yesterday, Capito blasted Regan for using CERAWeek as the backdrop to make this announcement.
"Executives pay $8500 to attend CERA Week," the senator said in a Twitter post. "I guess that's the cost of finding out what @EPA's plans are."
But the power sector itself is keeping its powder dry. Investor-owned utilities are not party to West Virginia v. EPA, the landmark court case now before the Supreme Court that could result in a decision in June that would limit EPA's ability to regulate the power sector for carbon (Climatewire, March 10).
And the Edison Electric Institute, the industry's trade group, filed an amicus brief expressing concern that too sweeping a decision by the court could lead to an onslaught of unintended consequences, including tort cases brought by states and other plaintiffs aimed at shutting down individual power plants.
"Tort suits are not a regime that allow for investment decisions," Emily Sanford Fisher, general counsel for EEI, said in a virtual briefing Wednesday hosted by OurEnergyPolicy.
Sanford Fisher said at the briefing that non-CO2 rules had in fact caused the closing of coal-fired plants ahead of schedule in the past when utilities judged that to be more cost-effective than retrofitting them with emission control technology.
An Obama-era mercury rule led to the retirement of one-third of the nation's coal fleet, she said, substantially changing the sector's investment portfolio. And a Trump-era water rule allowed utilities to opt to commit to take their coal plants offline by 2028 to avoid expensive compliance measures—a deal several of her members have taken and that has led to early shutdowns.
But Sanford Fisher said regulations provided important flexibility when they offered utilities the option to retire a plant on a set schedule rather than requiring them to invest in costly upgrades as a condition of operating aging units short term to ensure a reliable power supply.
"You don't want to drive someone to make investments in a unit that would otherwise be slated for closure," she said, adding that that might extend the life of a plant while the utility recoups costs.
'Political calculus'?
While retirements may deliver the bulk of greenhouse gas emissions cuts, EPA does plan to propose carbon rules for new and existing fossil fuel power plants later this year. Regan said yesterday that EPA was "taking a fresh look at our options" when crafting the two rules.
The Supreme Court's decision this summer is likely to bar EPA from implementing something like the Obama-era Clean Power Plan—the 2015 rule that would have accomplished reductions through trading and fuel-switching.
But Sanford Fisher said the Biden EPA's focus on environmental justice concerns would have made emissions trading an unlikely policy option anyway, because it has historically concentrated pollution sources in economically and racially disadvantaged communities, to be offset by carbon reductions elsewhere.
"I do tend to think that if EPA were in a position to do another rule that they might be more focused on some of the things that could happen at a specific unit or within a set of units that are closely located and not really look at generation shifting," she said. "But I think that's more of a political calculus than a technological or statutory calculus at this point."
Before EPA formally proposes rules for new and existing power plant carbon, Regan said the agency would release a white paper soliciting comment on how natural gas combustion turbines can reduce their carbon output.
While coal plants have shut down in recent years, gas plants have proliferated. And most projections show substantial gas-based power will remain online through 2050 and beyond, even as the U.S. and the world are due to achieve important decarbonization milestones.
Regan said the paper's goal would be to "frame the public dialogue" ahead of a proposed rule this year targeting gas-fired power plants.
The Obama-era rule for new power plant carbon, which is still on the books, demands that coal-fired power plants use partial carbon capture and storage, or CCS, technology to limit emissions. But it asks natural gas combustion plants to meet a standard of roughly 1,000 pounds of carbon dioxide per megawatt-hour, which is effectively business as usual.
Experts say the policy discussion around how to reduce emissions from gas-fired power through regulation is still in the relatively early stages. While CCS for coal can be costly and there can be geologic barriers to storing carbon in some places, there are added technological challenges to applying carbon capture to natural gas plants.
And gas plants will be needed to provide backup capacity even when the power grid includes a much higher share of renewable power than it now does.
"We need more gas capacity even than we have, but we need to use it less and less," said Steve Corneli, founder of Strategies for Clean Energy Innovation. "We won't need it to generate electricity when there's lots of wind and sunshine, and all the batteries are charged. But they'll need a lot of it, or more than we have now, during those fewer but extended periods when it's not windy or sunny and when all the batteries are discharged."
Corneli said he hoped that EPA would think about the role gas plants would need to play in a future low-carbon power grid, not simply about their emissions.
Reprinted from E&E News with permission from POLITICO, LLC. Copyright 2022. E&E News provides essential news for energy and environment professionals.