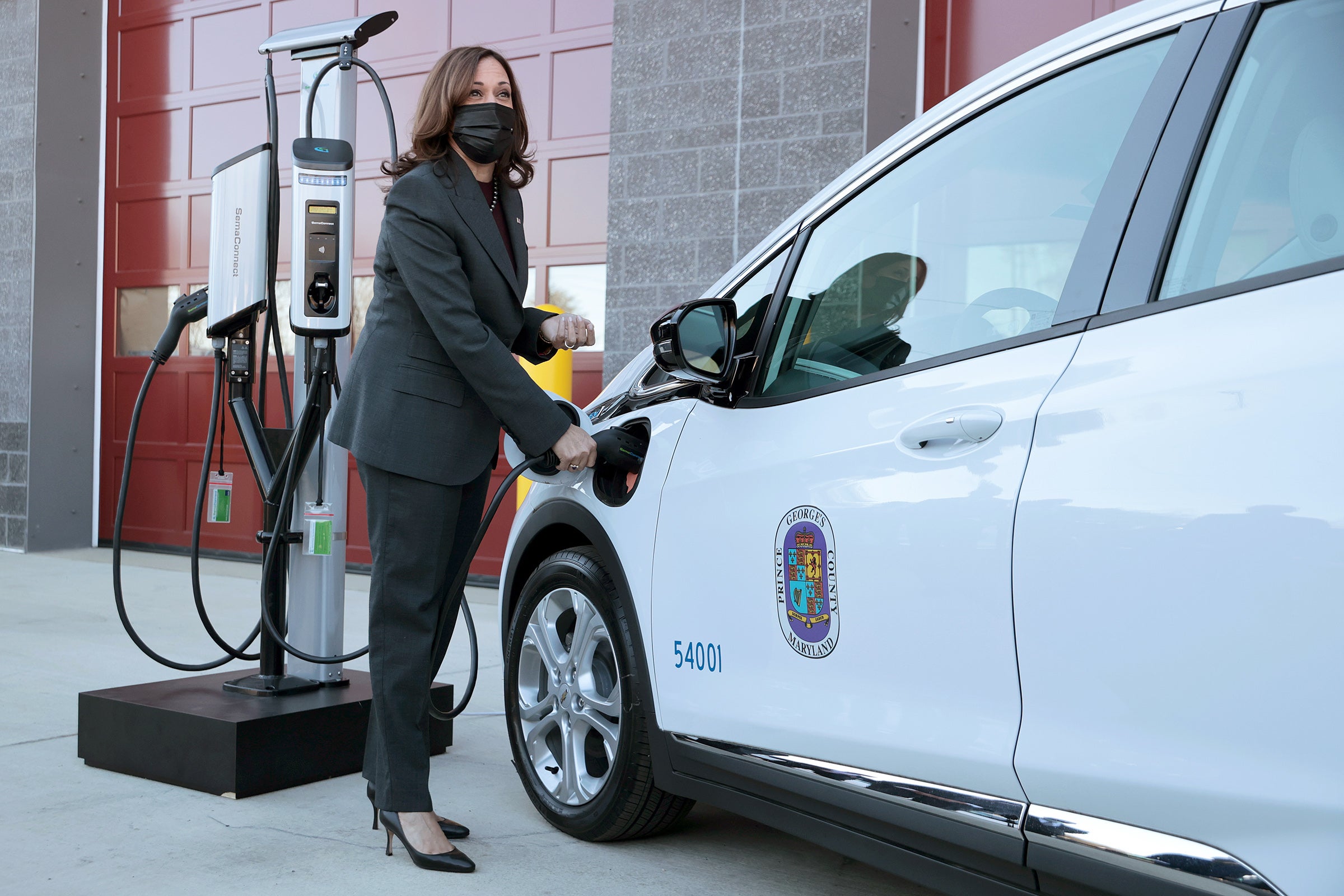 The Biden administration will roll out a $5 billion program today to help states build a national network of 500,000 electric vehicle charging stations by decade's end.
The newly dubbed National Electric Vehicle Infrastructure (NEVI) Formula Program was established by President Biden's bipartisan infrastructure law, which Congress passed last November. The administration announced the program yesterday, and it also released guidance to help states begin drafting their five-year deployment plans for building the chargers.
"The President's Bipartisan Infrastructure Law will help us win the EV race by working with states, labor, and the private sector to deploy a historic nationwide charging network that will make EV charging accessible for more Americans," Transportation Secretary Pete Buttigieg said in a statement.
The guidance outlines where stations should be located, general characteristics about their charging capacity, the allowable uses of funding, and how states should consider other administration priorities like equity and workplace development.
States will have until Aug. 1 to submit a deployment plan to the newly established Joint Energy and Transportation Office, which will approve or reject the plans by Sept. 30. Only states that submit a plan will be eligible for funding. The joint office was set up by the Transportation and Energy departments earlier this year.
The $5 billion will be distributed to states over five years, with $615 million available in fiscal 2022. The first year of the program will prioritize EV charging stations along designated alternative fuel corridors, particularly along the Interstate Highway System. Subsequently, states will be able to use funding to develop community charging infrastructure, a senior administration official told reporters on a press call.
The administration is also announcing a request today for nominations for alternative fuel corridors, which will act as the spine of the national network, according to the administration. Currently, 48 states have designated EV corridors.
The senior administration official said the Transportation Department's goal in allocating the funding is to ensure the national EV network reaches everyone in the country, including rural and low-income areas.
The guidance document strongly encourages states to develop an equity plan in line with Biden's Justice40 initiative, which would steer 40 percent of federal funding into communities of color that are shouldering the effects of climate change.
It's unclear, however, if the joint office can withhold funding from states that do not create an equity plan because that language is not included in the infrastructure law. While the guidance outlines the agencies' priorities, states are not legally required to comply with it. In 90 days, the administration will release minimum standards and requirements.
Republican governors last month warned the administration against using the infrastructure law to push through Biden's social agenda after the Federal Highway Administration issued guidance encouraging states to prioritize climate resiliency, public transit and bike paths.
Senior administration officials are expected to announce the new program this afternoon with remarks given by senior advisar and Infrastructure Implementation Coordinator Mitch Landrieu, White House climate adviser Gina McCarthy, Energy Secretary Jennifer Granholm, and Buttigieg.
Reprinted from E&E News with permission from POLITICO, LLC. Copyright 2022. E&E News provides essential news for energy and environment professionals.