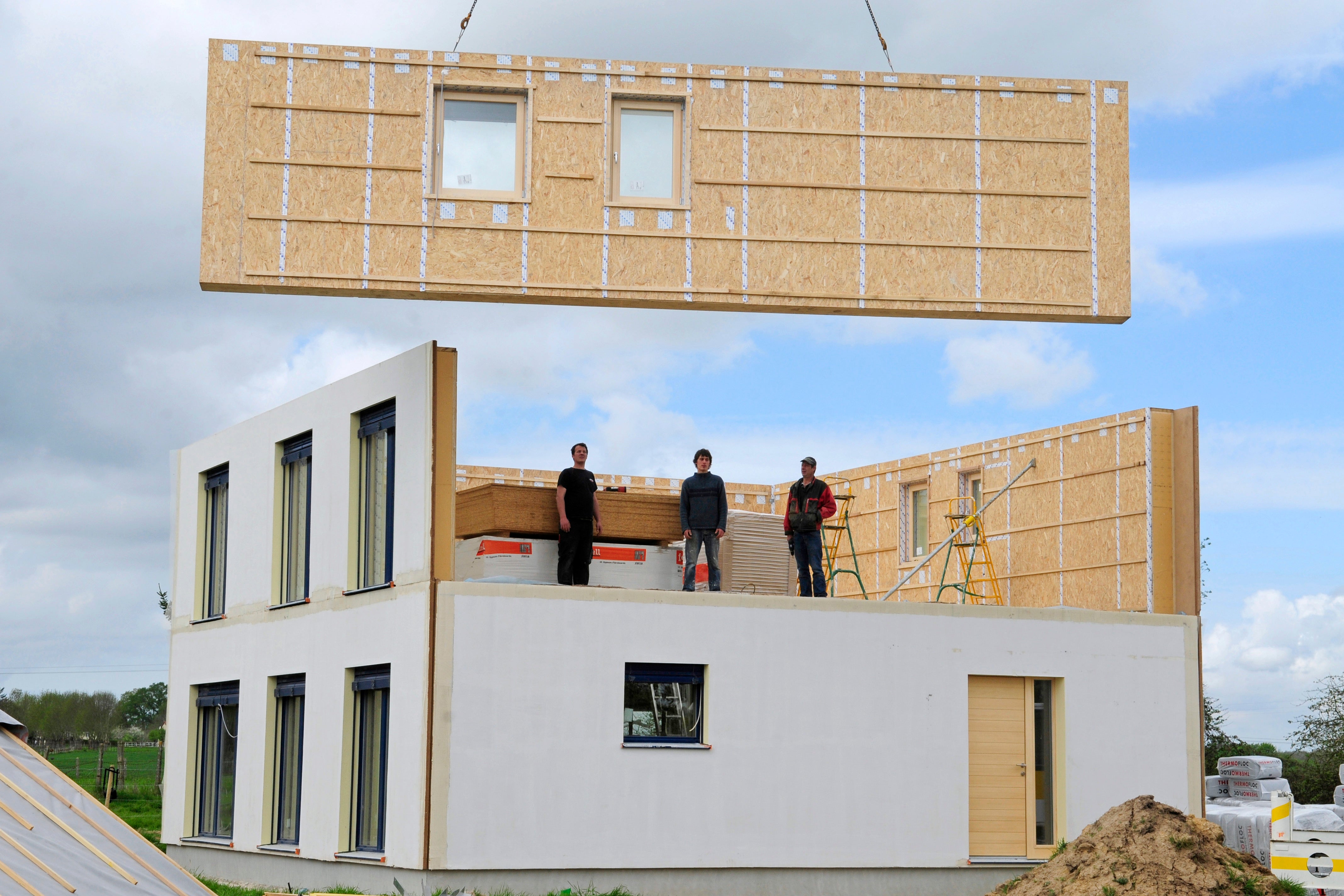 In 1991, a team of scientists patented what appeared to be a breakthrough for one of the nation's most serious energy efficiency problems.
Researchers at the Lawrence Berkeley National Laboratory had invented a "thin triple-pane" glass window. On paper the better-insulated window had the potential to cut annual energy for heating buildings by 39 percent and reduce air conditioning costs by 28 percent.
But the breakthrough was forgotten.
"It went nowhere," explained Robert Hart, a Berkeley lab researcher who now leads the team that invented the window.
In 1991, double-pane windows were state of the art in the U.S. They still are.
By adding a thin layer of glass in the middle of the window and sealing it with an inert gas such as krypton, the Berkeley team had made it lighter and more efficient, which meant it reduced emissions.
But then the team found that the middle sheet of glass—about one-twentieth of an inch—was being rejected by U.S. window manufacturers. It was too expensive.
"It was un-manufacturable," as Hart put it in an interview, and Berkeley stopped its research.
That might have had long-term consequences. Buildings use 75 percent of the nation's electricity, according to the Department of Energy. Improved windows have "vast potential" to help the U.S. achieve its goal of net-zero greenhouse gas emissions by 2050, the agency said last month.
Windows remain one of the biggest obstacles to making buildings more efficient. They were recently estimated by the Berkeley lab to cost U.S. home and building owners as much as $40 billion a year.
The European approach to fixing this problem has been more aggressive. Sweden and Denmark had developed triple-pane windows using regular glass in the early 1900s. By the mid-1980s, nations were beginning to include them in building codes.
Wolfgang Feist, a German physicist and college professor, took the issue further. He began championing what he called the "passive house movement" in 1991.
He and his academic partners won support from the German state of Hesse to design and build four passive houses in Darmstadt in 1991. The roofs, the walls and the windows were all super-insulated. The goal was a home or a building that required 75 percent less energy than new conventional structures.
According to the Passive House Institute, which Feist later founded, a total of 5,251 passive homes or buildings have been built around the world. Of those, only 133 are located in the U.S., where energy prices have traditionally been cheaper.
(Perhaps the most famous U.S. passive house was built by Amory Lovins, a physicist and founder of the Rocky Mountain Institute, a think tank that focuses on energy and environmental issues. The house includes a room where Lovins grew bananas and lemons in streams of sunlight that also provided most of its heating. He sometimes referred to the house as a "continuous experiment.")
Germans later expanded their efforts by constructing a passive hospital and police station. The European experiments helped inspire tougher building codes, which pushed builders to buy better windows.
As Feist recently put it, simply waiting for better technologies to emerge will not result in net-zero emissions by 2050. "We need to make the right decisions now and then act upon them," he said.
In 2003, the Berkeley lab team decided to give "triple thin" windows another try.
3 panes, 30 years later
The team's former leader, Stephen Selkowitz, a physicist and expert in building design, explained in a recent paper that the thermal properties of windows and their relationship to energy bills "are confusing not only to homeowners, but also to many builders and architects."
U.S. construction questions are settled by building codes, "so there is little motivation to find a better performing product," noted Selkowitz, who's now a consultant. U.S. homes are often framed with two-by-four construction, and they need lighter windows than heavier-built European homes.
The fix to this problem, when it finally arrived, emerged from industries that have nothing to do with construction. It came from companies that make cellphones and televisions. Their needs sharply reduced the price of ultra-thin glass.
In 2019, the Berkeley team approached several U.S. window companies including Alpen High Performance Products Inc. of Louisville, Colo. Alpen was already working on a three-pane window, but the company decided to modify the design when it saw the Berkeley prototype and learned that the price of thin glass had dropped to almost one-eighth of its former cost.
"Our answer was very quick," Craig Maierhofer, an Alpen vice president in charge of new products, explained in an interview. Using the thinner glass, Alpen eventually came up with several new designs including the "Winsert," a three-pane unit in a fiberglass frame.
In April 2019, New York City calculated that heat and cooling losses from its buildings accounted for approximately two-thirds of the city's greenhouse gas emissions. It approved the Climate Mobilization Act, which limits emissions for buildings over 25,000 square feet. It impacted nearly 60,000 buildings in the city.
Where Alpen once saw a morass of problems, now it was beginning to see dollar signs.
Hart, the new leader of the Berkeley lab team, also saw signs of progress. He contacted other U.S. companies including Andersen Corp. of Bayport, Minn., where officials had expressed interest in the new window.
"Just for fun," Hart recalled, he also invited an Andersen salesman to examine the windows of his home. Should he replace them with the newer, more efficient windows?
No, the salesman told him, they would be too expensive.
Hart later explained the incident like this: "We work mostly with research and development teams. They're not always in lockstep with the sales force. It takes a lot of time and training to get that to happen."
'Lacking in innovation'
In the summer of 2019, the Berkeley lab received a grant from the California Energy Commission to replace double-pane windows in a group of new model homes in Fresno with the triple-pane version. California was also becoming concerned about reducing energy costs and greenhouse gas emissions from heating and cooling homes.
Then the state awarded the lab a second grant of $1.85 million. This was to measure the economic impacts of triple-pane windows replaced in homes and apartments in three low-income communities.
The results produced glimmers of light for Hart, Selkowitz and other window researchers. Then in 2020, an election year, Donald Trump weighed in on energy-efficient windows as a presidential candidate.
"That's just my business," Trump told a Fox News reporter. "I know all about construction. That's wonderful. Let's take your windows out and make them tiny little windows because you're going to save 2 cents on energy."
President Biden is now supporting energy efficiency campaigns by DOE and the General Services Administration (GSA), which oversees federal buildings and buys a lot of windows. GSA has been prodding the U.S. window-making industry to pay more attention to energy efficiency since 2019.
"The building construction envelope has been one of those industrial sectors that's been lacking In innovation," Kevin Powell, director of GSA's center for emerging building technologies, said in an interview.
In a report issued this month, GSA said its tests of thin glass window inserts on older buildings could result in an 11 percent energy savings in Miami and 18 percent in Minneapolis.
"Our goal is to spread this knowledge to the commercial sector," said Powell, who added, "I think you may see some pretty rapid movement especially with something that has this kind of incremental payback."
Last year, Andersen became the second U.S. company to unveil its versions of the Berkeley lab's triple-pane window. "Our commitment to being good stewards of our natural resources is a core value of Andersen Corporation," said Kate Graham, the company's director of research and renewal.
Hart of the Berkeley lab is more cautious but still hopeful. He is carefully watching industry surveys. So far, he said, the market penetration of triple-pane windows is around 3 percent in the U.S.
Some American manufacturers are simply importing them from Europe. The Berkeley lab is now working with states, cities and utilities on a new collaboration called Partnership for Advanced Windows Solutions.
"There has been a lot of movement in the right direction," Hart noted, " but it's not interconnected."
Reprinted from E&E News with permission from POLITICO, LLC. Copyright 2022. E&E News provides essential news for energy and environment professionals.