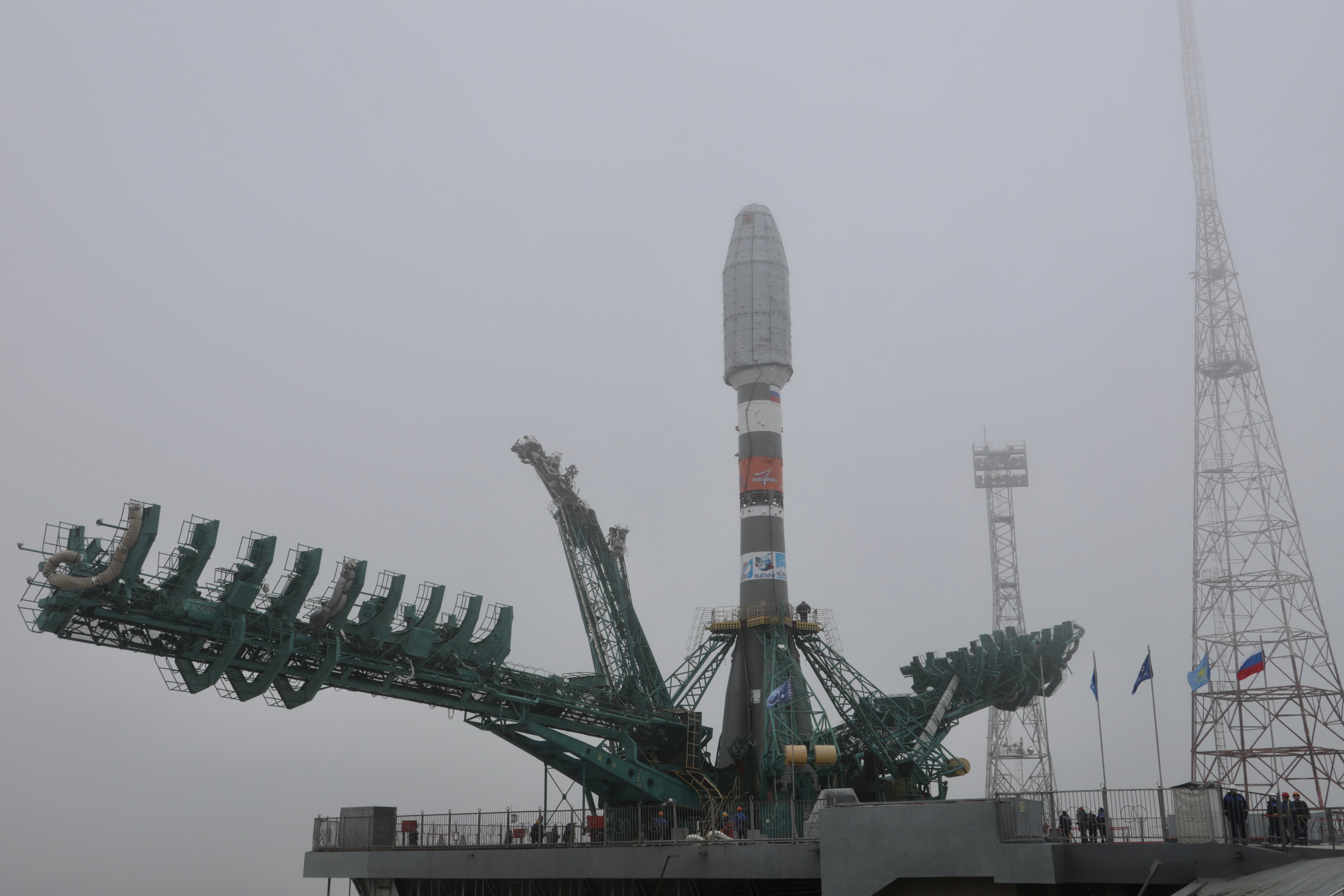 Roscosmos will not launch three dozen OneWeb internet satellites as planned on Friday (March 4) unless the company meets new demands, the Russian space agency announced today (March 2).
This morning, Roscosmos rolled a Soyuz rocket out to the launch pad at the Russia-operated Baikonur Cosmodrome in Kazakhstan carrying 36 satellites for the London-based company OneWeb. Shortly after the rollout, Roscosmos Director-General Dmitry Rogozin made an online statement that the agency will not launch the satellites as planned if the company does not guarantee that the craft will not be used for military purposes. 
And Roscosmos further demanded that the United Kingdom government remove its investment in the company as another condition for launch. (The UK government helped buy OneWeb out of bankruptcy in late 2020.)
If these demands are not met by 1:30 p.m. EST (1830 GMT; 9:30 p.m. local time in Moscow) on Friday, Roscosmos will remove the Soyuz-2.1b rocket carrying the satellites from the launch pad.
Related: Satellite photos show 40-mile-long Russian military convoy near Kyiv
Дмитрий Рогозин в интервью телеканалу «Россия 24»:⚡ Роскосмос предупредил компанию OneWeb о том, что если она до 21:30 мск 4 марта не предоставит гарантии неприменения её спутников в военных целях, то ракету «Союз-2.1б» снимут со старта. pic.twitter.com/EYDeaH79QeMarch 2, 2022
See more
A Friday launch is highly questionable at this point, for the demands are unlikely to be met.
"There's no negotiation on OneWeb: the UK Government is not selling its share. We are in touch with other shareholders to discuss next steps," UK Member of Parliament Kwasi Kwarteng, who serves as Secretary of State for Business, Energy and Industrial Strategy, said via Twitter today.
The Russian demands come amidst the nation's invasion of Ukraine, an action that has been vehemently condemned by many countries around the world, including the US and UK. Such condemnation has included new economic sanctions, imposed by the US and other nations.
Roscosmos has been cutting ties with some of its long-time partners, citing the sanctions as rationale. For example, Roscosmos announced on Feb. 26 that it will no longer collaborate with the European Space Agency at the European spaceport in French Guiana, on the north coast of South America.
Email Chelsea Gohd at cgohd@space.com or follow her on Twitter @chelsea_gohd. Follow us on Twitter @Spacedotcom and on Facebook.