If you're looking for the best space gifts and deals available this year, you've come to the right place. When it comes to the best space gifts and deals, there's a wide range of products out there that can educate your child, enhance their school experience or simply entertain them.
We've searched the universe for the best space gifts and deals and put them into this handy guide, so you don't have to. Whether you're looking for telescopes, model rockets, science kits or essentials, we've got you covered. There's something for every child and every budget in this guide and there's no doubt you'll find something to entertain or educate at a discount. 
If you want more great space gifts and deals, of course we have more content and more specific guides for you. So, make sure you check out our Lego space deals, best telescopes for kids and best binoculars for kids pages. However, with great deals like Bill Nye's VR Space Lab (over $11 off) and the Celestron 76mm FirstScope we're confident you'll find exactly what you're after on this page.
To make navigation easier, we've split the products up into categories based on what they are, telescopes, STEM kits, model rockets and essentials to make it easier for you to find what you're after. There are some great deals out there to start the new year but we're not sure how long stocks will last so you'll have to act fast if you see something you like.
The Best Telescopes For Kids
Celestron FirstScope 76 Tabletop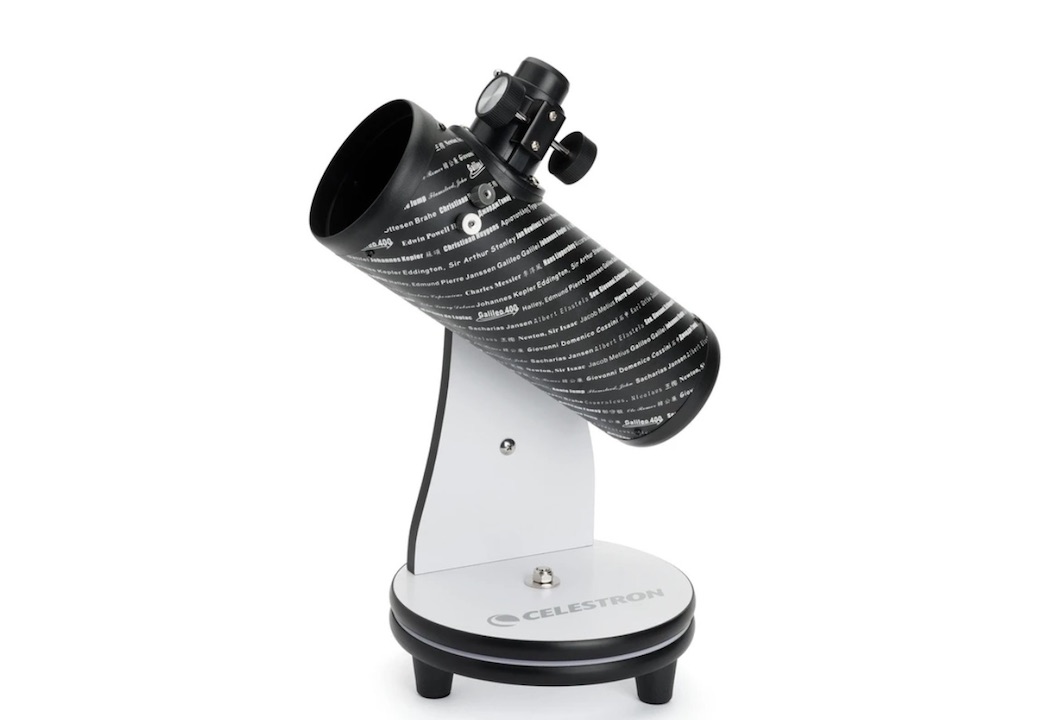 As we've said in our telescopes for kids buying guide, what we love about Celestron's FirstScope is that it's easy to use and pack away. There's also no need to set it up since it already comes assembled straight out of the box: a fantastic feature for the impatient youngster and parents who aren't keen on assembling a telescope on a regular basis. 
The FirstScope is portable, weighing in at 4.5 lbs. (2.04 kilograms), while the build is of good quality despite the low cost. As a prime example, the instrument's plastics are not glossy and cheap when compared to other telescopes within a similar price range.
The Celestron FirstScope is ideal for little hands since the tube can be pushed to the desired target with ease. Meanwhile, this tabletop reflector comes fully equipped for good observations of the night sky: two basic eyepieces — a 4 mm and 20 mm — are thrown into the package, along with a basic edition of Starry Night astronomy software. A great download for young skywatchers wanting to learn more about the universe.
Whether you're looking for a telescope for a five year old or a teenager, Space.com has selected high-quality instruments from top manufacturers Celestron, Orion and Meade Instruments to ensure that you get the very best for your budget.
Celestron AstroMaster 70AZ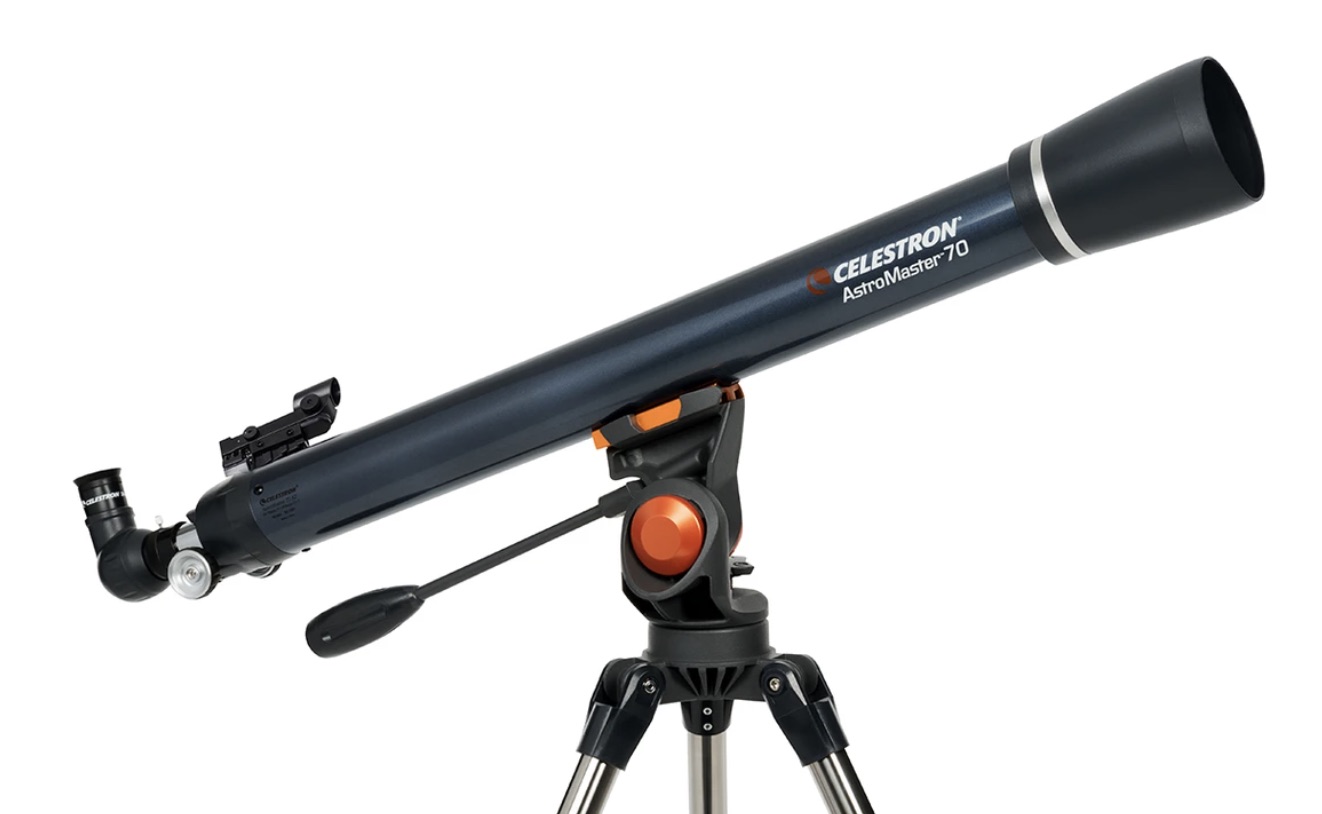 The Celestron AstroMaster 70AZ is a no-frills telescope that makes a good starter instrument for skywatchers aged seven years and up — particularly those who prefer not to stoop down to use a tabletop telescope. Some youngsters will need to be supervised while using the AstroMaster 70AZ.
Like many starter scopes, the AstroMaster 70AZ doesn't require any tools for settiing up and comes with everything the skywatcher needs to kick-start a rewarding hobby, including 10 mm and 20 mm eyepieces, an erect star diagonal as well as a battery-operated red dot finderscope. 
A download of Starry Night Basic software is also included and features a database of 36,000 targets to explore, including printable sky maps, three-dimensional renderings of galaxies, exoplanets and stars. Whichever way skywatching pans out for your young astronomer — whether it's a passing phase or a lifelong passion — this refractor is a great option that doesn't break the bank.
This particular model comes with a smartphone adaptor so you can capture your discoveries and given the telescope's 2.76-inch (70 mm) aperture and useful magnifications of 10x and 165x, the optics can be pushed that touch further without compromising the image quality. We recommend looking to invest in a selection of eyepieces to show your young skywatcher more dazzling sights of the universe.
The Best STEM Science Kits For Kids
Bill Nye's VR Science Kit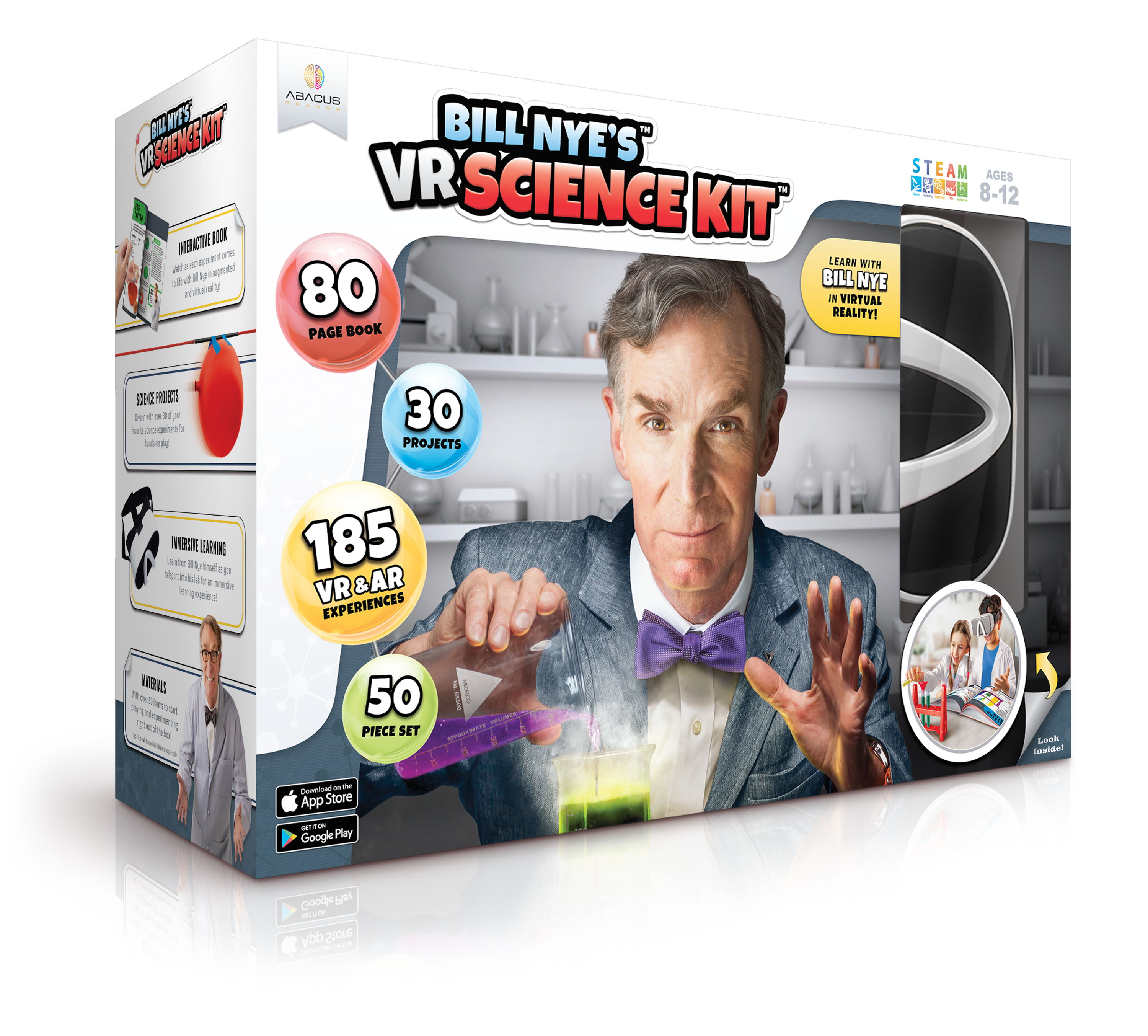 This amazing, affordable VR science kit is from one of our favorite science guys, Bill Nye. When kids pop on the virtual-reality goggles in Bill Nye's VR kit, they'll find themselves standing in his science lab, learning hands-on experiments from the science guy himself. The kit comes with 50 pieces for kids to not only watch Bill do 30 of his favorite experiments, but do them along with him. 
With this science kit, kids will be able to do their experiments like building their own lemon battery, create a lava lamp, "tattoo" an egg, make slime, make perfume, and trap gas in a balloon. 
In addition to these hands-on experiments, kids will also get the chance to explore far-off destinations in virtual reality. Bill Nye takes kids on trips to volcanoes, waterfalls, icy caves and more.
Bill Nye's VR Space Lab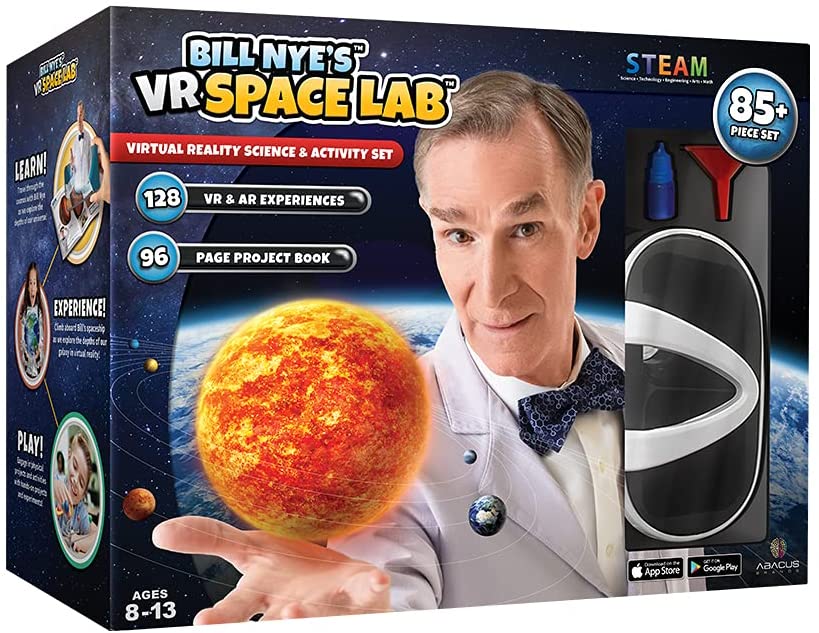 Is there such a thing as too much Bill Nye? We don't think so. Different from his science lab above, this virtual reality STEM set is all about space. Get the ultimate educational space toy as Bill Nye takes you through 128 out-of-this-world VR and AR experiences. 
This set also comes with a 96 page book to teach you all about the cosmos, as well as the 15 different projects and activities available with this set. Of course, VR goggles are included along with materials needed to complete games, puzzles and tasks for layered learning that is perfect for any budding scientist or astronaut. 
It's fun, it's educational and it's immersive… This really could be a great set to get your child interested in or further their interest in all things space. 
Discovery #MINDBLOWN Action Circuitry Electronic Experiment Complete STEM Set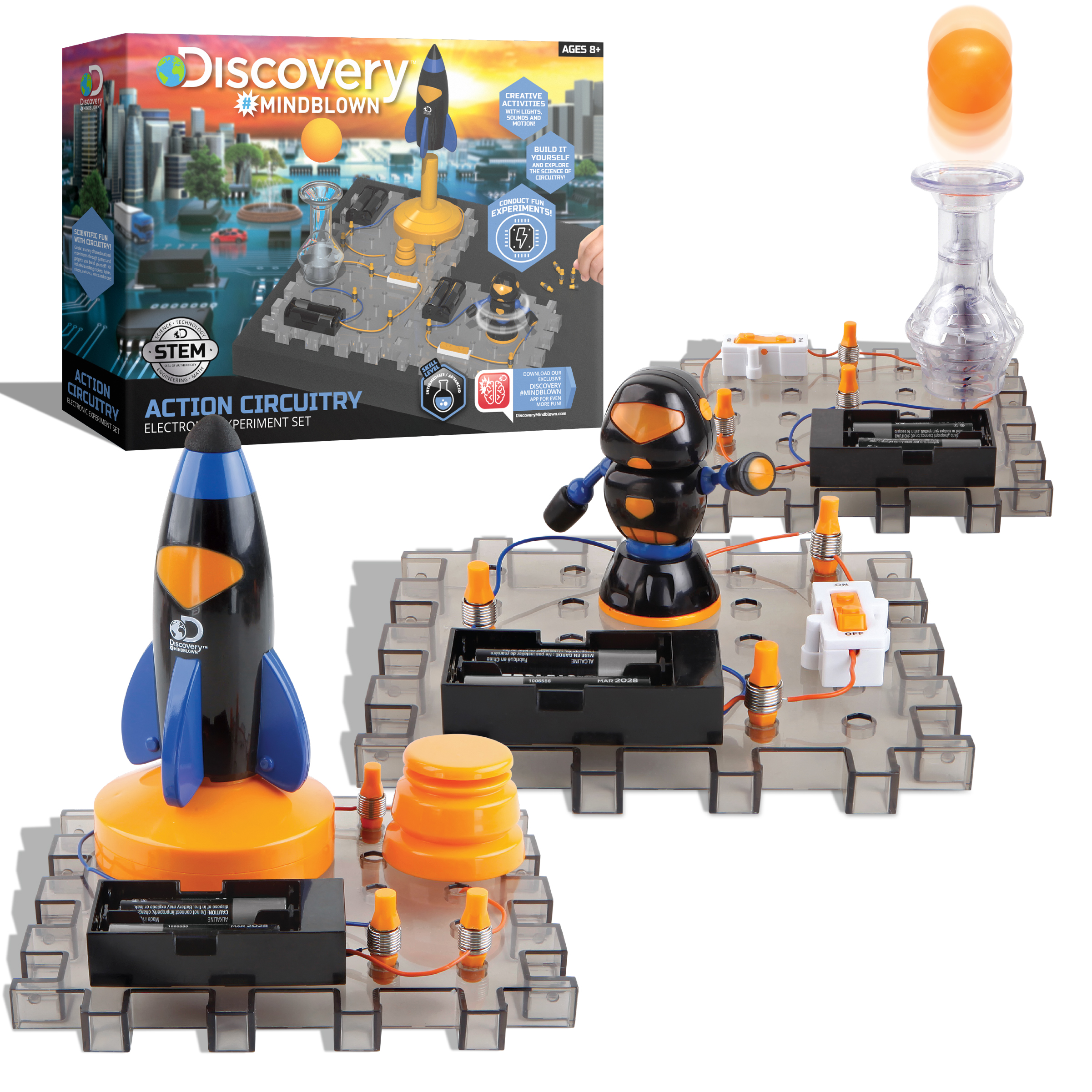 The Discovery #MINDBLOWN Action Circuitry Electronic Experiment set is a fun way for children aged 8 and above to conduct their own experiments and learn about the principles and nuances of electricity, engineering and circuitry design. 
The set includes 3 unique experiments which include rocket launch, spinning robot and floating ball. You will need 2 double A batteries for this set which are sold separately.
This set works perfectly as a STEM toy and encourages children to learn how to engineer their own experiments as well as take a deeper interest in science. Easy to use modules and clear instructions means the keeps on coming with this set.
STEM Toys 6-in-1 Space Solar Robot Kit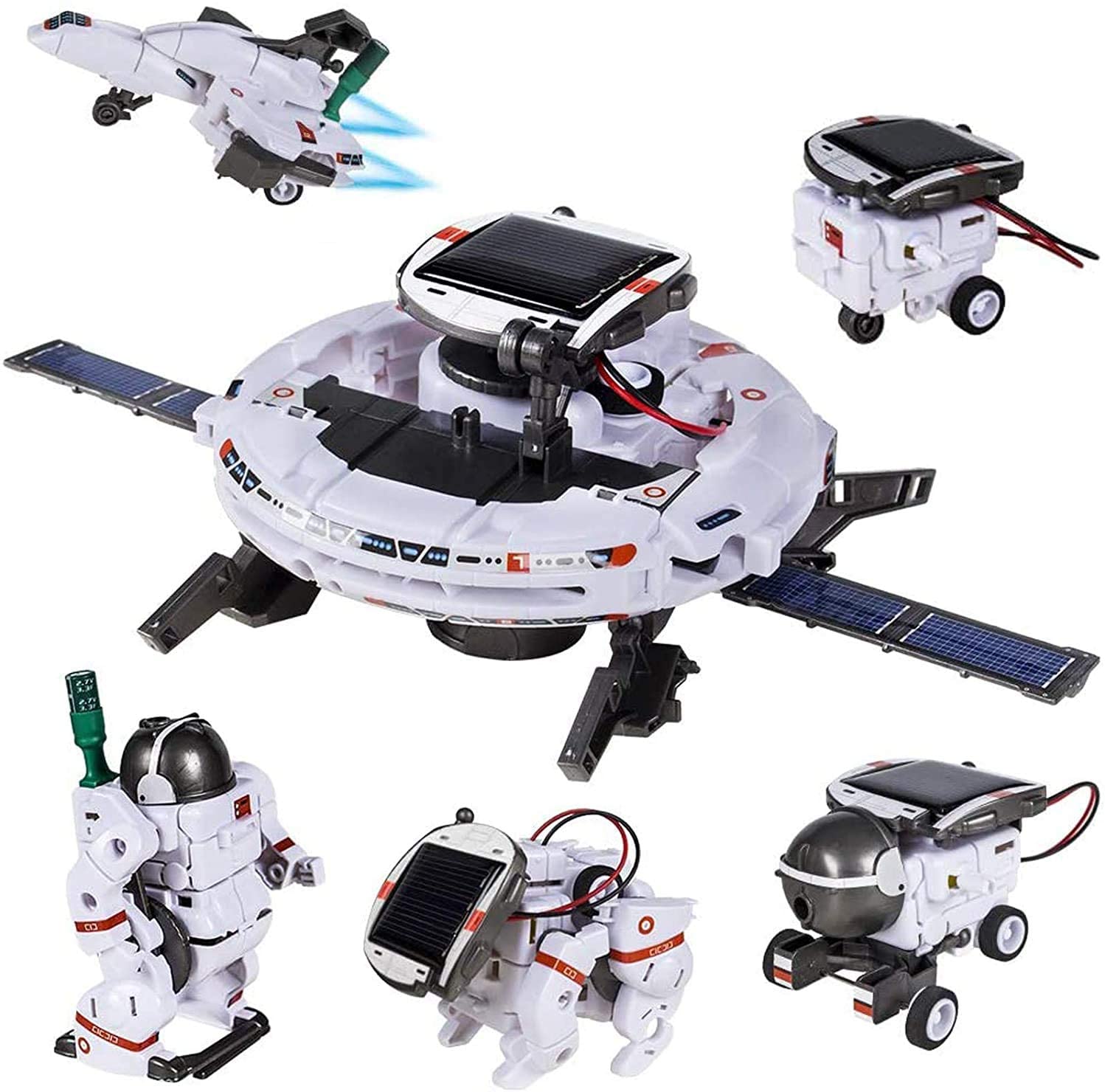 This next STEM toy is an excellent way to capture your child's interest in all things space whilst teaching them about renewable energy and how to build robot kits.
Easy to follow instructions allow your child to build – without frustration – 6 different solar powered toys that include Space Station, Space Explorer, Space Rover, Space Shuttle, Astronaut and Dog. 
The robots collect solar heat energy in the panel provided for smooth outdoor use but can use battery power for indoor use as well.
Kano Star Wars The Force Coding Kit – Explore The Force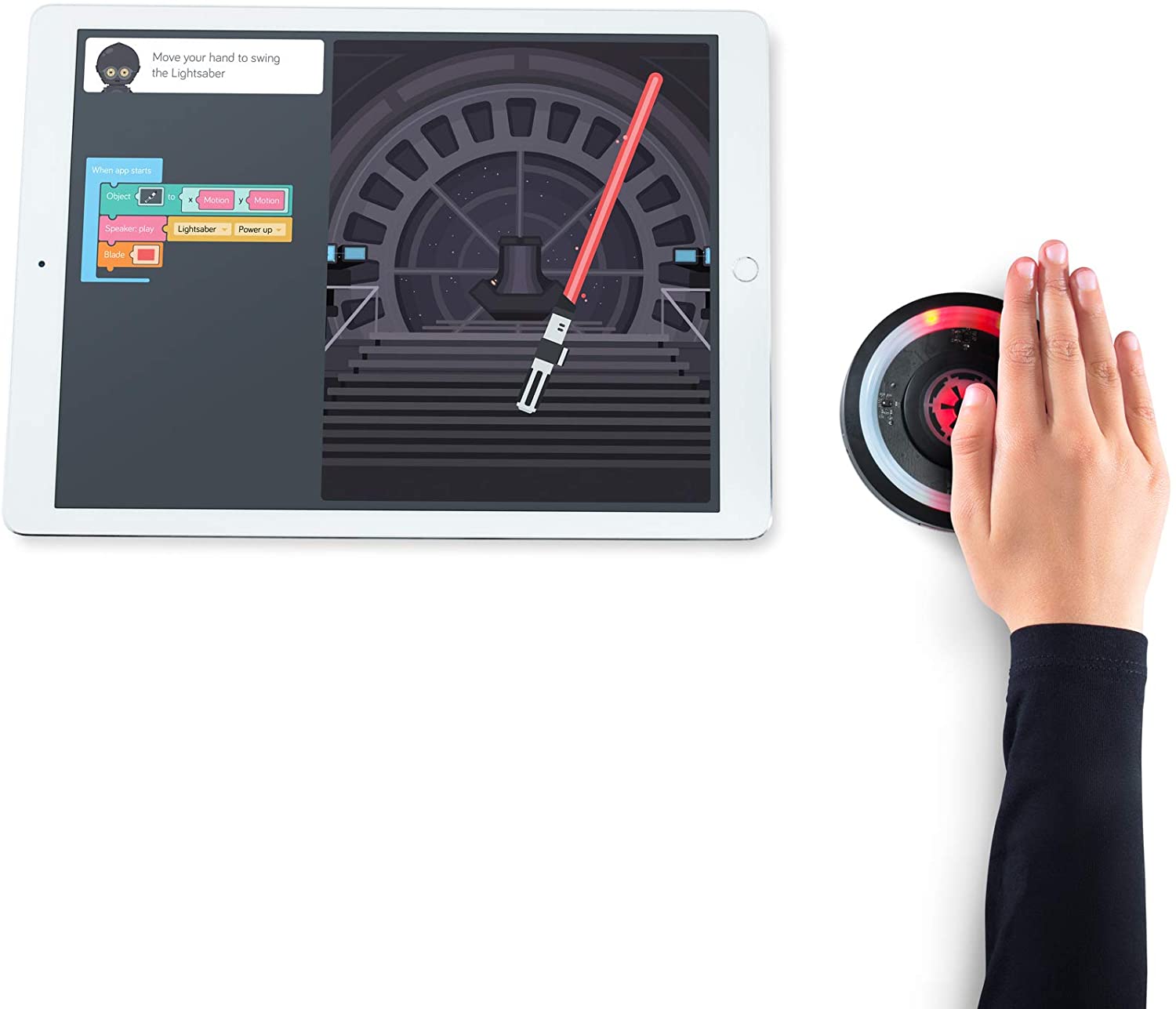 Save a whopping $58.04 when you buy this Kano Star Wars The Force Coding Kit from Amazon.
Your kids can use the Force to swing lightsabers, Force push enemies and even pilot X-Wings. They will be able to create their own story with hundreds of characters, weapons, planets and starships available to use. 
Children can build a motion sensor by following an instruction manual which will allow them to use the Force and navigate their way through the stories they choose to create. 
This kit is from the most-award winning STEM company and is a super-fun way to teach children all about coding. Children can code their own beats, melodies and sound effects with music inspired by the films.
To see their creation come to life children will need a tablet (which isn't included) and the Kano device is compatible with: works on recent iPads, Macs, windows 10 computers, fire 10 tablets, and selected other devices.
The Best Model Rockets For Kids
Estes Big Daddy Flying Model Rocket Kit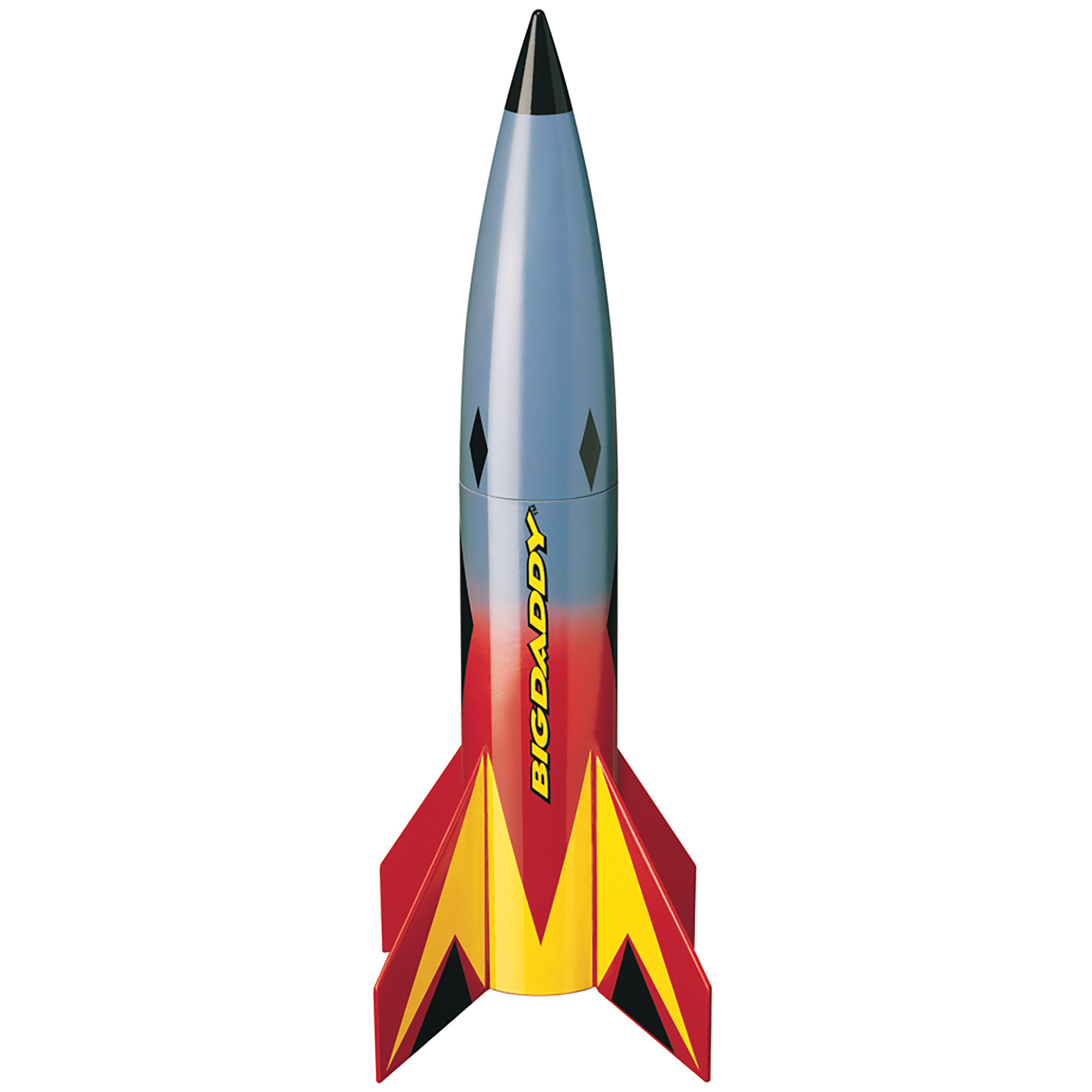 Bigger is better when it comes to the Estes Big Daddy Flying Model Rocket! Standing at just under 20 inches, this model rocket can reach dizzying heights of approximately 900 feet. 
The kit contains a high quiality body tube, laser cut balsa fins, a molded plastic nose cone, a colorful preassembled 24 inch parachute and easy to apply waterslide decals. 
Parental supervision is probably needed for anyone under the age of 18 and Estes model rocket engines, starters and recovery wadding are required to launch this model rocket and sold separately. 
4M 4605 Water Rocket Kit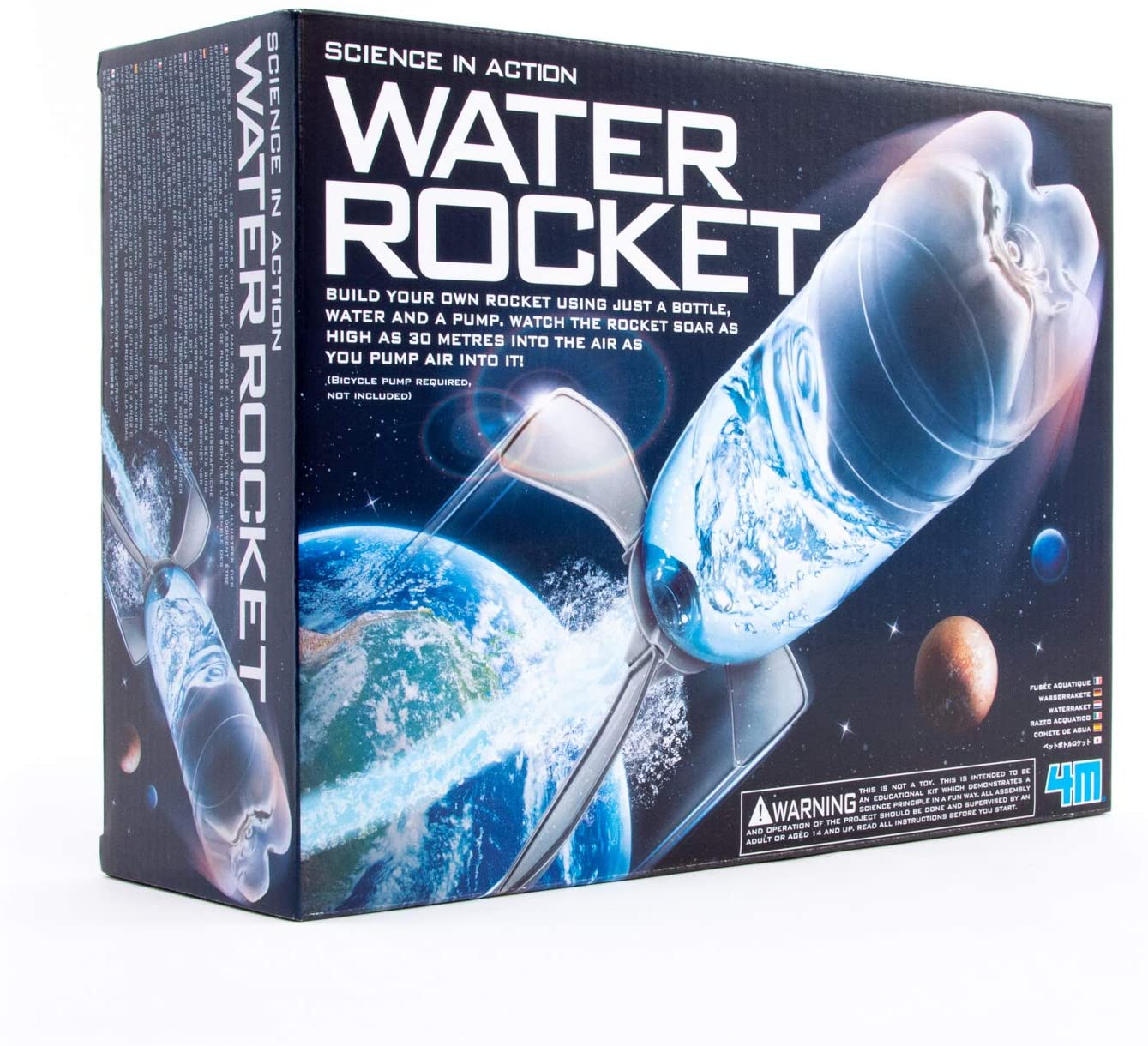 If something slightly less powerful but no less fun would be ideal for your child then look no further! The 4M 4605 Water Rocket Kit uses the power of water to launch a recycled plastic soda bottle up to heights of 90 feet. 
Detailed instructions are included and adult supervision is advised but this is a great gift for any young science enthusiast. All you need that isn't included in this set is a bicycle pump. 
With the help of the pump the bottle uses water pressure to transform itself into a rocket as it soars up into the sky – a great way to capture the imagination of any child interested in rocketry or science. 
Estes Tandem-X E2X 2 Rocket Launch Set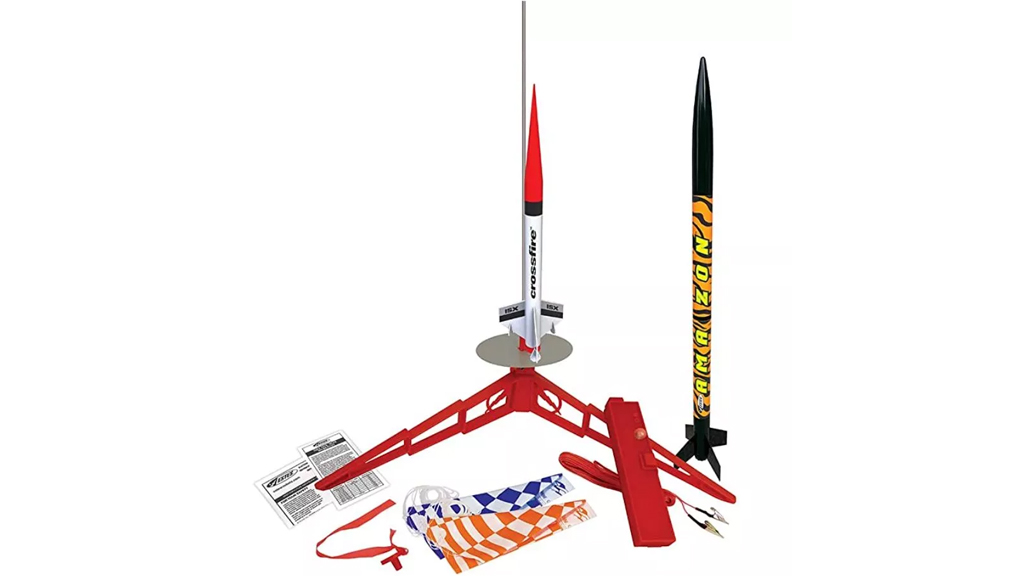 Two rockets in one set here, perfect for anyone who loves their model rockets. The Amazon stands at an impressive 30 inches in height (76 centimeters) and can reach heights of 650 feet, all while being quick and easy to assemble.
The Crossfire can take a day to build but it's streamline shape and aerodynamic features mean this bullet of a model rocket can be shot up to a dizzying height of 1200 feet. 
These model rockets are suitable for children aged 10 and above and Amazon say "Tools, construction and finishing supplies sold separately. In order to launch, model rocket engines, starters and recovery wadding are required – sold separately." 
Essentials
Get a gift that is stylish and practical. Whether your child is back to school or they need something that will be handy to have, this back pack has plenty of storage space and also features the faces of the Mandalorian and baby Yoda.
Key features of this backpack include padded shoulder straps for top comfort, two mesh side pockets – perfect for water bottles or any small loose items, a zipped main compartment and a zipped front pocket. Both of which are perfect for everyday school supplies, like books, binders, folder, pencil cases and more. 
Astronaut Floating in Outer Space – Boys / Girls Red Pencil Case with 2 Zippered Pockets and Velcro Closure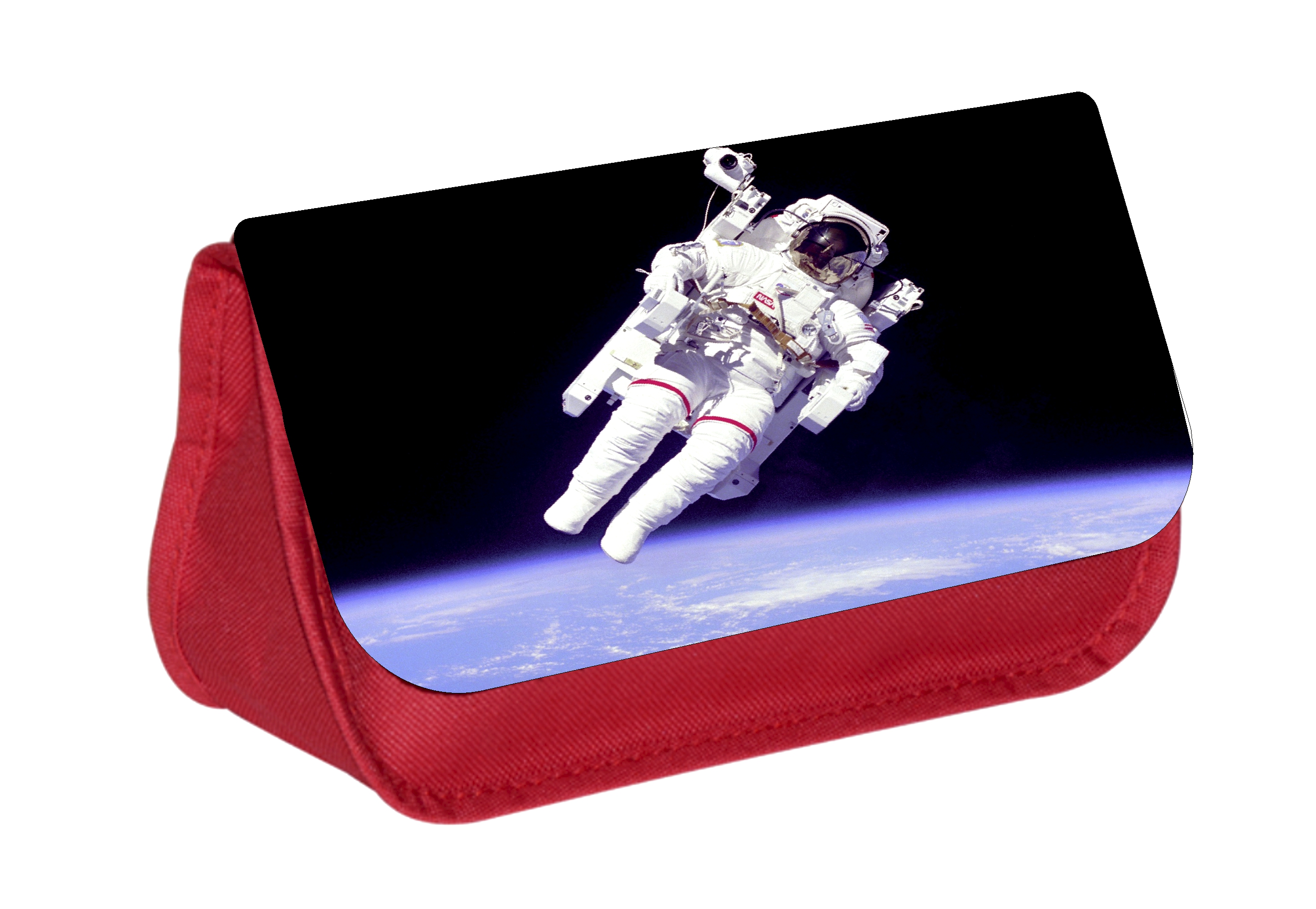 The obvious back-to-school accessory is the pencil case. This one is perfect for any space lover, of course for its design, but because of the cool looking astronaut on the cover of it. 
The case itself comes with two large zipped pockets for extra organisation. One larger one with an inner zipped pocket to allow for carrying extra equipment and one smaller zipped pocket all made with high quality heavy canvas material.
Whether its arts and crafts, mathematics or just general school equipment like pens, pencils, rubbers, rulers and more that your child is going to be carrying around, this pencil case is a must for the school year.
TinyMills 24-piece Push Pencils With Erasers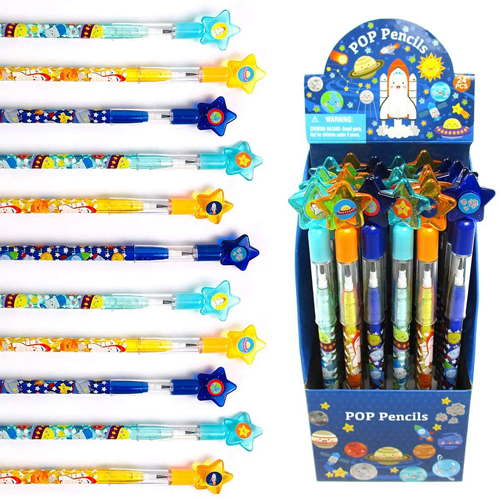 Pens and pencils are always going missing at school so what better essential than a very reasonably priced 24 pencil set? The out-of-this-world design will excite any budding astronaut and could help in getting your child excited for school. 
These pencils come with a star shaped lid as well as erasers for when mistakes are made. The eraser is under the star cap and each pencil is refillable so this really is the ideal school essential for any young child in your life. 
Lenovo ThinkBook Plus 20TG000MUS Laptop
This dual screen Lenovo laptop more than packs a punch as it comes with Intel's Core i5 10th gen processor and has 8GB memory, meaning your child will be able to run whatever program they need to smoothly, and save plenty of school work to their laptop without having to worry about space running out. 
Spanning only 13.3 inches with a full display, this laptop is compact and convenient to transport to and from school. Of course, this is an expensive product but it is also a top quality product and by saving $400.00 when you buy from Microsoft, now is a great time to get it! 
Follow Alexander Cox on Twitter @Coxy_97Official. Follow us on Twitter @Spacedotcom and on Facebook.