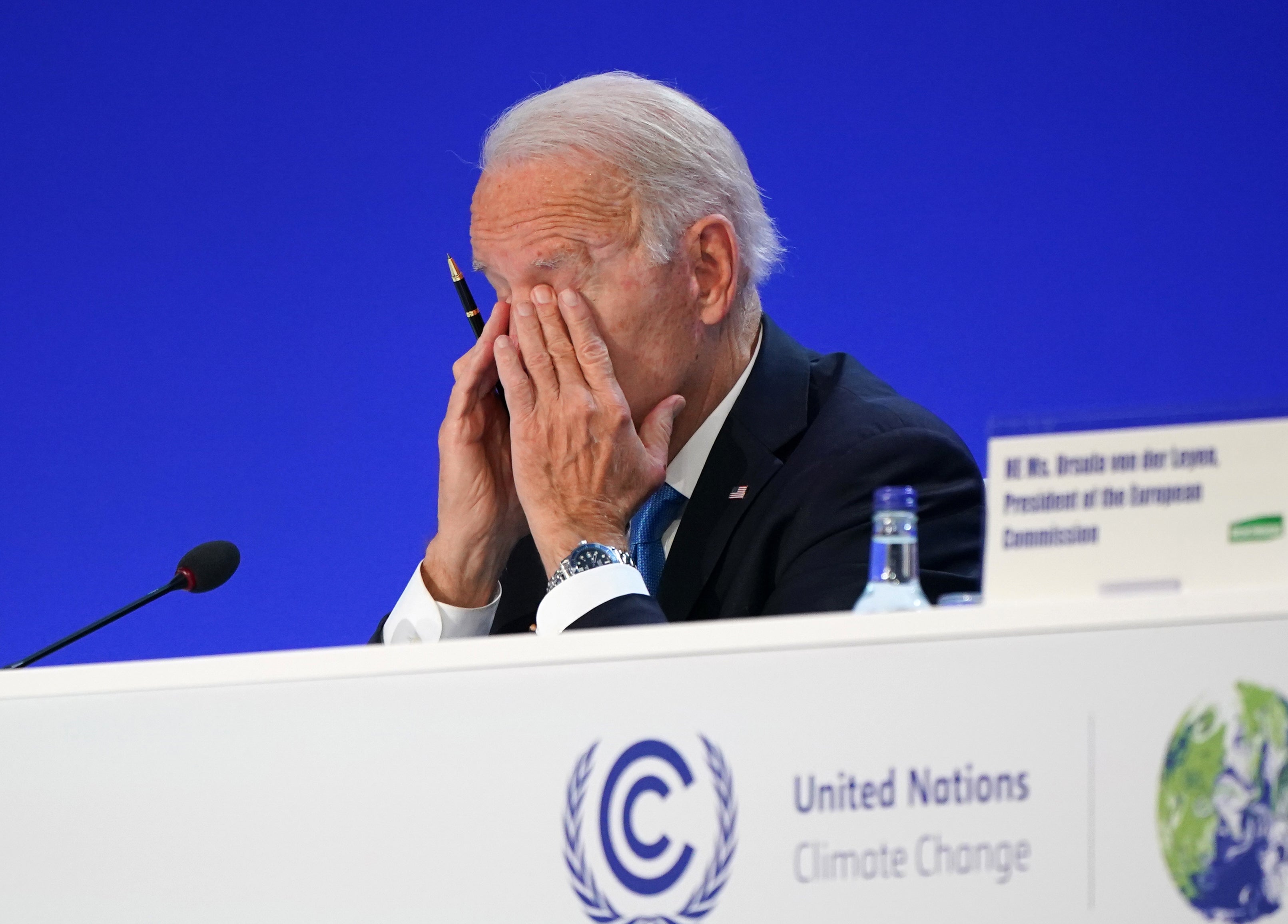 A judge's order blocking the Biden administration's application of an interim climate metric will cause sweeping delays in agency rulemaking and stall planned projects requiring new environmental reviews, a White House official said this weekend.
Dominic Mancini, the deputy administrator of the White House Office of Information and Regulatory Affairs, said a recent preliminary injunction barring the Biden administration from using an interim calculation of the social cost of greenhouse gases could slow finalization of at least 38 pending rules from four different agencies.
The decision would also affect dozens of pending agency analyses—including those for federal oil and gas activity—leading to increased costs and more uncertainty for industry, Mancini said in a declaration filed Saturday with the U.S. District Court for the Western District of Louisiana.
"The cumulative burden of the Preliminary Injunction is quite significant," he said.
Mancini later added, "[A]gencies are spending considerable resources and delaying a myriad of regulatory actions as they fully consider the implications of a changed scope of analyses."
Judge James Cain of the Louisiana district court stunned legal observers last week when he issued an order preventing the Biden administration from using an interim social cost of carbon metric developed by an interagency working group (Energywire, Feb. 14).
The social cost of carbon puts a dollar value on a metric ton of emissions and is used to assess the societal benefits of imposing stricter regulation of emissions of carbon dioxide, methane and nitrogen oxides.
Cain dismissed the metric's incorporation of global emissions and sided with Louisiana Attorney General Jeff Landry (R) and other challengers' arguments that the metric would cause harm by increasing states' regulatory costs.
Justice Department attorneys stated in a filing over the weekend that the federal government plans to fight Cain's ruling in the 5th U.S. Circuit Court of Appeals.
The federal government also requested that Cain, a Trump pick, stop his ruling from taking effect no later than Feb. 28. If the judge declined to block his order by that date, DOJ attorneys said they would ask the 5th Circuit to intervene.
An initial tally by federal agencies revealed a wide-ranging impact from Cain's order, including on rulemakings being drafted in response to earlier court orders that had required more thorough climate analyses.
"In some instances, the burdens imposed by the Preliminary Injunction go well beyond delay and waste of resources," Mancini said. "Agencies are now struggling to reconcile their conflicting obligations to comply with the Court's order and with the requirements of the [Administrative Procedure Act] and other relevant statutes."
Delay for oil and gas
The scramble to comply with Cain's decision could have far-reaching implications for the already contentious federal oil and gas programs managed by the Interior Department, slowing leasing and, in some cases, new drilling.
The department's preliminary review identified three pending rules and 27 analyses mandated under the National Environmental Policy Act affected by Cain's ruling.
These included environmental reviews for "several planned and potential oil and gas lease sales," Mancini said.
Interior has been preparing for a suite of onshore oil and gas sales across several states since late last year. These would be the first onshore lease auctions of this administration, which instituted a leasing moratorium shortly after President Biden took office—until a separate federal lawsuit forced Interior to resume auctions.
The social cost of carbon ruling has undermined those auctions.
In some cases, Mancini said, Interior had already finalized its responses to comments on the analyses and had revised environmental assessments for planned onshore oil and gas lease sales.
"[R]evising the NEPA analysis would be a burdensome and time-consuming process for the BLM, and, following those revisions, the Agency anticipates subsequently recirculating the revised analyses for 30 days public comment," he said.
The Louisiana district court's injunction has also halted the Bureau of Land Management's work on applications for permits to drill (APDs) for 18 wells on oil and gas leases in New Mexico, according to court documents.
The NEPA review for those APDs would have used the now-enjoined carbon estimates.
"BLM is still assessing how many other applications are similarly affected," Mancini added.
A spokesperson for Interior confirmed it was expecting delays in permitting—the approval of individual oil and gas wells—as well as leasing for its oil and gas programs in the wake of the court decision.
"The Interior Department continues to move forward with reforms to address the significant shortcomings in the nation's onshore and offshore oil and gas programs," Interior communications director Melissa Schwartz said in an email Saturday.
"Specifically, the Department is committed to ensuring its programs account for climate impacts, provide a fair return to taxpayers, discourage speculation, hold operators responsible for remediation, and more fully include communities, Tribal, state and local governments in decision-making," the agency stated.
Impacts from Cain's injunction could also grip Interior rulemakings and efforts to reform the federal oil program.
One example is BLM's pending waste prevention rule for oil and gas development on public lands, which would tighten methane pollution controls on federal drilling and production.
The rule would replace the Trump administration's 2018 rescission rule, which had been tossed out by the U.S. District Court for the Northern District of California for relying on a social cost of methane that only considered domestic emissions.
If BLM followed Cain's direction and applied domestic-only emissions to its social cost of carbon calculation then the agency would then be violating the California district court ruling that had found that approach inadequate, Mancini said.
Similarly, BLM could be found to be in violation of prior court precedent if it monetized certain costs or benefits like coal and oil royalties but excluded climate costs, Mancini warned.
Other federal agencies also could face significant regulatory setbacks if Cain's ruling remains in place.
The delays caused by the injunction follow a year of political tension over the federal oil and gas program, which climate activists have pushed the White House to retire and which oil and gas allies have fiercely defended.
The president of the Petroleum Association of Wyoming recently said the slow-walking of new leasing from the Biden administration constituted a "dereliction of duty."
"The Administration's failure to uphold the law in regards to quarterly lease sales will have tangible negative impacts on the state and her people," said association President Pete Obermueller in a recent statement.
DOE, DOT and EPA
Cain's ruling will likely extend far beyond Interior. The Department of Energy said about 21 pending rules would be affected, while EPA counted at least five rules in an initial tally.
The Department of Transportation identified nine rules, as well as 60 records of decision or environmental impact statements.
Mancini noted that changing the social cost of greenhouse gases would often require agencies to redo modeling used in impact assessments. Restarting regulatory analyses would then trigger lengthy review both within and between agencies. Even starting over with agency guidance or NEPA actions could put a strain on agency resources, Mancini said.
These requirements "could preclude agencies from conducting analysis and developing policy on other pressing issues," he added.
In addition to the delays in rulemaking and analysis, the decision is also preventing the Biden administration from finalizing the social cost of greenhouse gas values.
To date, the Biden administration has used interim values identical to those adopted by the Obama administration but adjusted for inflation.
Cain's injunction effectively shuttered the interagency working group tasked with finalizing the updated values, Mancini said.
He noted that the finalized values were set to undergo additional comment and independent peer review.
"As a result of the Preliminary Injunction, all this effort has ceased, affecting the ability of the Federal government to avail itself of the latest scientific and economic information in decision making," Mancini said.
Reprinted from E&E News with permission from POLITICO, LLC. Copyright 2022. E&E News provides essential news for energy and environment professionals.