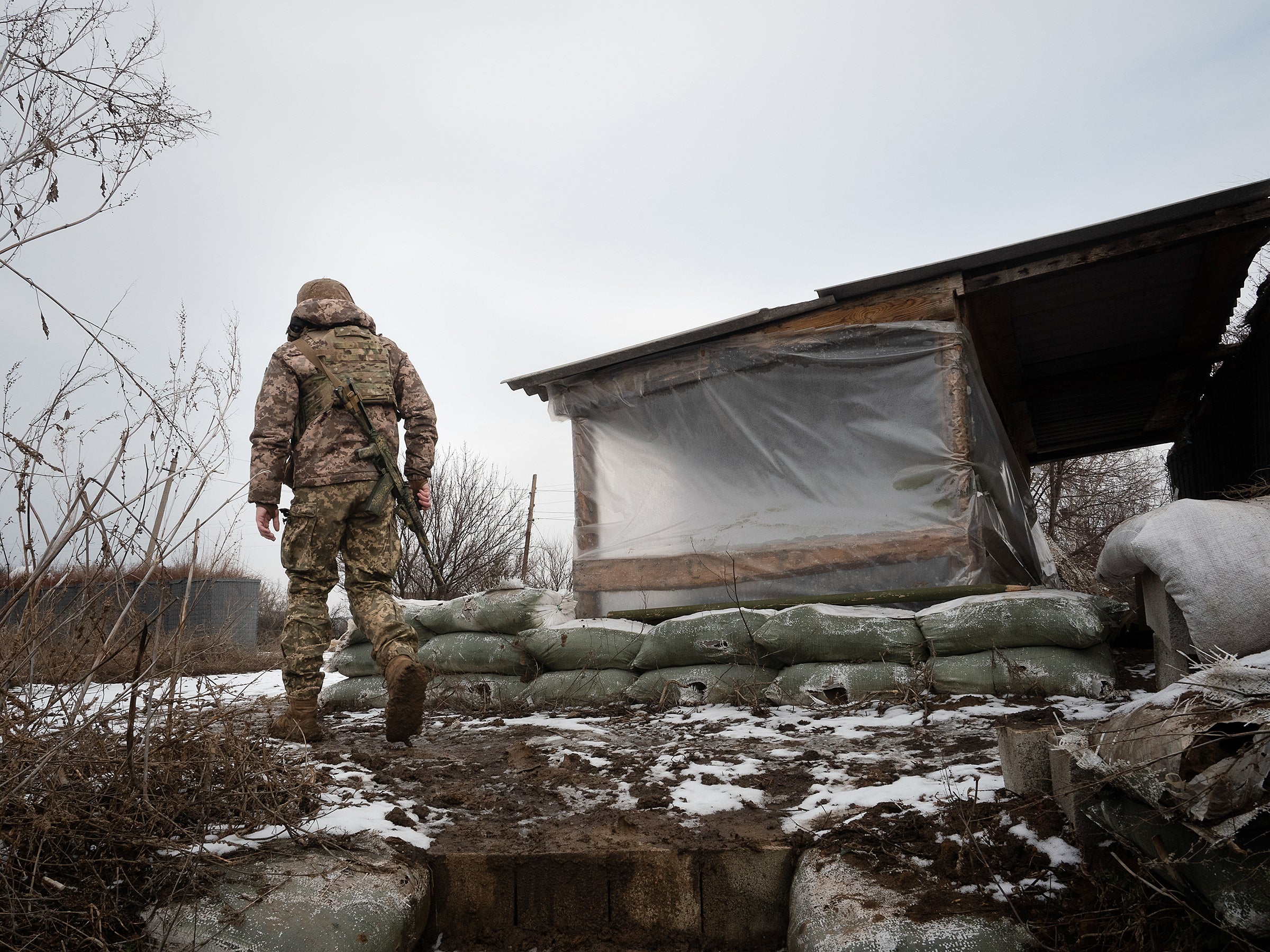 As Ukraine braces for the possibility of an imminent invasion by Russia, several Ukrainian scientists have told Nature that they and their colleagues are taking measures to protect themselves and their work, including gathering items for self-defence and preparing to flee. The escalating tensions come eight years after a revolution that pushed Ukraine to cut ties with Russia—including those related to research—and forge closer links with the European Union. Researchers fear that fresh conflict will plunge Ukraine into turmoil and halt the progress that it has since made in science.
"At the moment, I am sitting in a warm place and the Internet is available. I don't know if that will be the case tomorrow," says Irina Yegorchenko, a mathematician at the Institute of Mathematics in Kiev, which is near Ukraine's border with Belarus.
In the past few weeks, Russia's massive military build-up at its border with Ukraine and inside Belarus has marked a rapid intensification of tensions that have been rumbling on since 2013. Then, a wave of protests and civil unrest ousted Ukraine's Russian-leaning leader in early 2014 and the country elected a pro-European government. That year, Russia invaded Ukraine and seized the Crimean peninsula.
Research institutions in Crimea, previously run by the National Academy of Sciences of Ukraine, were transferred to Russian control. Fighting in the eastern Ukrainian regions of Luhansk and Donetsk continues to this day. The conflict led to 18 universities relocating out of Luhansk and Donetsk to other parts of the country, with many researchers losing their homes and laboratories. Most of the academic staff at one displaced university—Vasyl' Stus Donetsk National University, now in Vinnytsia—are people who were forced to leave and who lost their property, livelihoods and family ties, says Roman Fedorovich Hryniuk, the institution's rector.
As a result of the conflict, many Ukrainian researchers cut links with Russia and formed new ties with their peers in Europe, the United States and China. "It was painful to lose established relations and build-up new ones, but it gave us a new point of view," says Illya Khadzhynov, vice-rector of scientific work at the university. In 2015, Ukraine joined the EU's flagship research-funding programme, giving its scientists the same rights to apply for grants as EU members.
Troop movements
Now, some 130,000 Russian troops are at the border with Ukraine and inside Belarus, which commentators in the West see as an act of aggression (see 'Tensions rise'). Russia says that it has no plans to invade, but some scientists are feeling the strain.
"There is a very certain threat of war. I feel like I could die tomorrow, or in two days, but I can't do anything about that," says Yegorchenko. Although she feels that it is useless to prepare, she is keeping electronic devices such as phones and power banks charged, and is in constant contact with her family. "All scientists do that," she adds.
"In general, this Russian tension is aiming to create chaos in Ukraine, and harm to the economic situation. We know that we will have less funding for research, less opportunities to travel and zero chances of internal conferences in Ukraine," she says. But overall, she is trying not to worry and is working more than usual to help cope with the situation. "Mathematics is a good therapy," she says.
At the Sumy National Agrarian University, which is 30 kilometres from the border with Russia, staff have been trained in how to behave in the event of hostility. The university has drawn up plans for employees to evacuate from the building to bomb shelters. There are also plans to move unique scientific equipment and biological specimens out of the region.
"In private conversations, scientists say that they have collected 'alarming suitcases' with documents and essentials," says Yurii Danko, an economist at the institution. The bags contain clothes, medicines, tools, self-defence items and food, he says. Danko does not believe that Russia will invade, but says that if it did, many scientists would be forced to move from their homes to areas controlled by Ukraine to continue working—or might have to go abroad. "In case of the occupation, scientists will not work for the enemy," he adds.
Trying to keep calm
Further west, in the city of Lviv, near the Polish border, computer scientist Oleksandr Berezko says that many feel the tension but are trying to keep calm. "It might sound strange, but the war has started eight years ago; it hasn't started now," he says.
Berezko, who works at Lviv Polytechnic National University, was planning a small meeting for around 20 early-career researchers to discuss open science at the end of March; he says it is now likely to be cancelled. "Ukrainian research is not in the best shape and many people are trying to develop our research system to bring it close to European and worldwide standards," he says. If there is war, the government's priority will be the armed forces and helping people to survive.
Vladimir Kuznetsov, a plant biologist at the K. A. Timiryazev Institute of Plant Physiology in Moscow, says that the situation between his country and Ukraine is highly undesirable and unacceptable. "They won't give money to researchers. Many researchers will leave Ukraine and that will be very bad," says Kuznetsov. He thinks that there won't be an invasion, and hopes that the situation will stabilize soon. Although scientific collaboration between the two nations has dwindled, scientists in Ukraine try not to show that they are in contact with Russian peers, "so as not to put themselves and their families at risk", says Kuznetsov.
This article is reproduced with permission and was first published on February 19 2022.