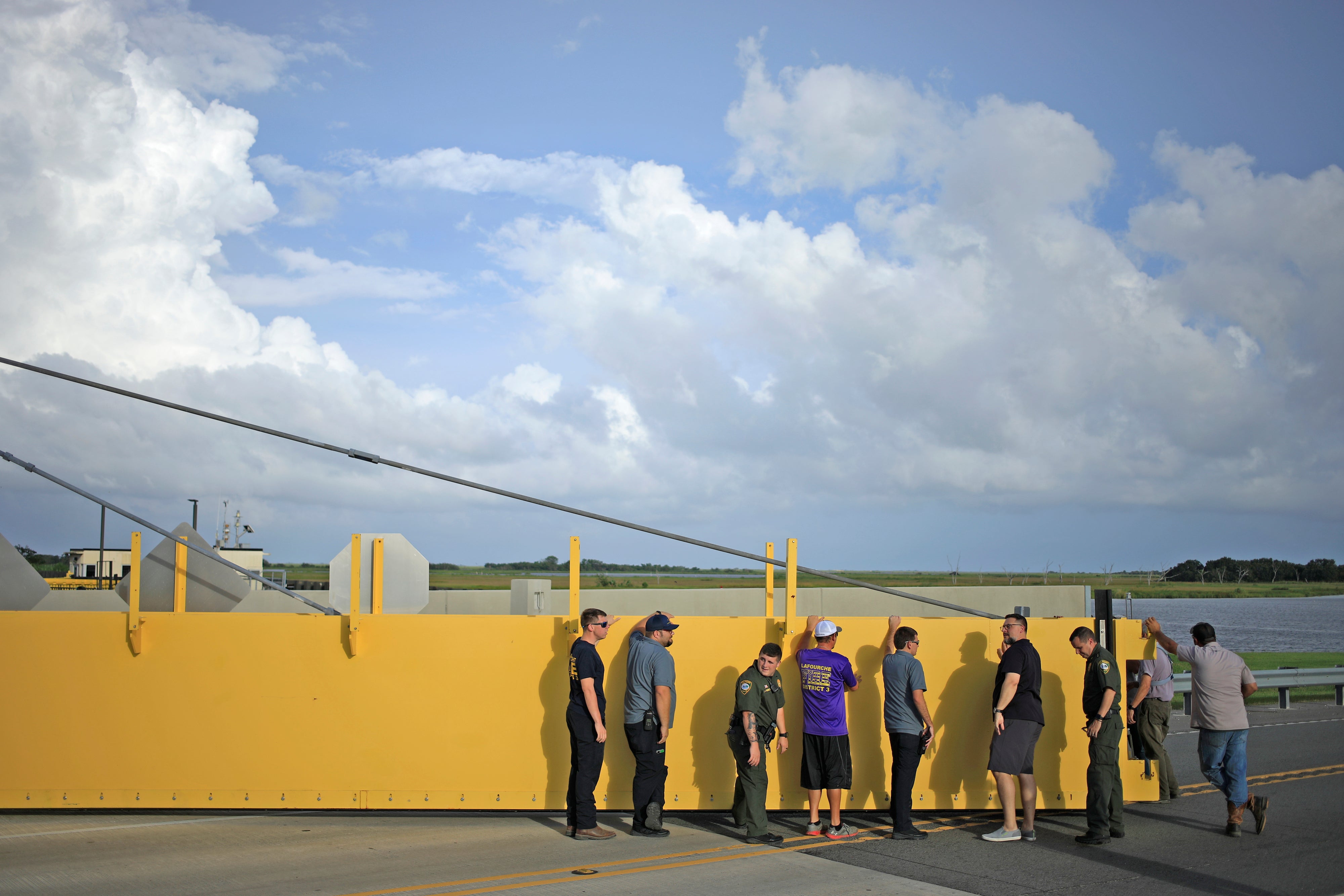 Hurricane Ida, which cut a path of destruction from Louisiana to New York last year, is being recognized as one of the most destructive storms in U.S. history and the world's costliest natural disaster in 2021.
But the Category 4 hurricane also is becoming a poster child for government spending on flood protection. Analysts say Ida would have caused much more damage and many more deaths if federal taxpayers had not spent $14 billion rebuilding and strengthening New Orleans-area levees after Hurricane Katrina in 2005.
A report this morning by Munich Re, the German-based global reinsurance company, says Ida caused $65 billion in damage but that the rebuilt levee system "withstood the storm surges, thereby preventing much higher losses."
"The investments were absolutely worth it," Munich Re chief climate scientist Ernst Rauch said in an interview from Germany. "Having sound and resilient infrastructure is key to recovering fast from these events and also preventing major losses."
The analysis of Ida is a highlight of Munich Re's annual report on global natural disasters, which says that disasters caused $280 billion in damage in 2021 and that many of the events "fit in with the expected consequences of climate change."
"Societies need to urgently adapt to increasing weather risks and make climate protection a priority," the report says.
The global cost of disaster damage in 2021 was short of the $340 billion record set in 2017 but could have been much higher if the New Orleans levees and flood walls had not been rebuilt to withstand a storm that has a 1 percent chance of occurring annually.
Roughly half the global disaster damage occurred in the United States, following a typical pattern that is due to the intensity of Atlantic hurricanes and the amount of development in the nation's high-risk coastal areas.
"The reconstruction of the levees after Hurricane Katrina was obviously done in a way that prevented a significant amount of losses," Rauch said, adding that Ida was stronger at landfall than Katrina had been.
Senators and Army Corps of Engineers leaders made a similar point about the Greater New Orleans Hurricane & Storm Damage Risk Reduction System during a congressional hearing in October.
The Munich Re report represents a tacit endorsement of the bipartisan infrastructure law that President Biden signed in November, which includes roughly $50 billion for projects that protect against droughts, heat waves, flooding and wildfires. Biden also has increased Federal Emergency Management Agency funding for local climate mitigation projects.
"Investing in infrastructure—roads, bridges, sewage systems, rail transportation—pays off in the long run and actually helps economies to be competitive," Rauch said. "Yes, it is public spending, but it pays off in international competition."
Munich Re's $65 billion cost estimate for Ida matches the estimate by NOAA, which ranks Ida as the fifth costliest weather or climate disaster since the agency began tracking costs in 1980.
The costliest event, Hurricane Katrina, caused $179 billion in damage, according to NOAA. The other costliest events are Hurricane Harvey in Texas in 2017, Hurricane Maria in Puerto Rico in 2017 and Superstorm Sandy along the East Coast in 2012.
Katrina resulted in 1,833 deaths—second only to the 2,981 deaths caused by Maria—while Ida resulted in 96 deaths, according to NOAA. Although Ida caused substantial damage in seven states, the damage was concentrated in Louisiana.
The experience with Ida contrasts sharply to the second-costliest natural disaster of 2021—flash flooding in Western Europe in July that caused $54 billion in damage and 228 deaths, according to Munich Re.
Rauch said communities in Germany, Belgium and the Netherlands "were not prepared" for the flash flooding, which was triggered by torrential rainstorms.
"People and the public sector [in Europe] underestimate flash floods. They can occur anywhere," Rauch said. People in Germany are particularly vulnerable to flash flood damage "because we have more and more high-value [items] in basements, not just storage," Rauch said.
Rauch said homeowners can make their homes watertight and communities can improve drainage systems to minimize flash flood damage.
Reprinted from E&E News with permission from POLITICO, LLC. Copyright 2022. E&E News provides essential news for energy and environment professionals.