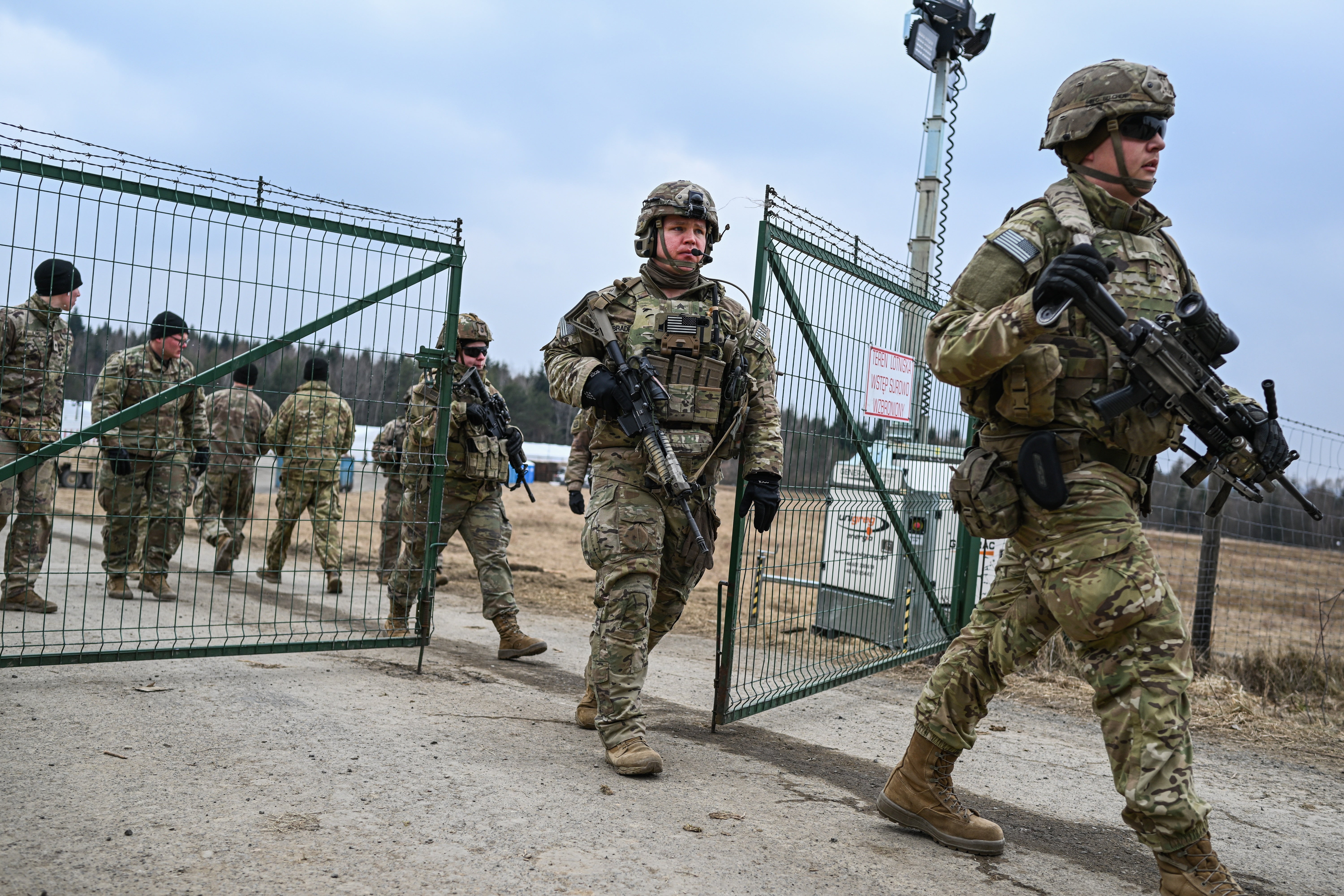 NATO's role in maintaining security in Europe has never been more critical following Russia's invasion of Ukraine. That includes protecting member nations from climate change, according to new analysis from the German Marshall Fund of the United States.
In the fund's latest installment of a series of reports called "NATO in a New Era: Global Shifts, Global Challenges," Jamie Shea, NATO's former deputy assistant secretary general for emerging security challenges, said member states must not lose sight of security issues that go beyond political and physical borders.
"Russia's invasion of Ukraine has impacted NATO's objectives on climate change, but its climate agenda does not have to be incompatible with its military operational priorities," Shea wrote in the analysis published on the think tank's website.
The analysis comes more than two weeks since Russia invaded its non-NATO neighbor Ukraine, bringing the post-World War II alliance to its highest alert level since the end of the Cold War.
In addition to the human toll, the invasion has disrupted global energy markets and raised questions about energy security across Europe, which has been weaning itself from fossil fuel-based electricity since the early 1990s.
Germany's decision to withhold certification of the Nord Stream 2 pipeline, expected to deliver 55 billion cubic meters of Russian natural gas annually to Europe, has triggered anxiety among some NATO member states that rely on fossil fuels for energy, though European Union officials have downplayed its significance, noting that the line was not yet operating.
Shea, who is based in Brussels, was unavailable for a telephone interview. A spokesperson for the fund said Shea began writing the assessment before the Russian army crossed the Ukrainian border and updated it prior to publication.
The analysis also makes clear that NATO, while making significant steps toward addressing climate risk, remains under pressure to respond to extreme climate conditions and events that undermine operational readiness.
"It has taken some time for the security implications of climate change to find their way onto the NATO agenda," Shea wrote, noting that alliance has been mired in conventional, cyber and hybrid attacks from the Middle East to Eastern Europe and now, "the implacable rise of China as a global military and technological power."
Climate security also has tested NATO's organizational norms, since the alliance is "used to reacting to—not anticipating—crises and to dealing with concrete and imminent challenges." As such, "climate change may well have seemed difficult to assess."
Erin Sikorsky, director of the Center for Climate & Security in Washington, said "NATO has been a leader in so far as pushing its members to put it on the agenda" and that allowing the Ukraine crisis to distract from those efforts would be unwise.
"Of course, climate isn't the primary threat. It's the interactivity with other types of threats," Sikorsky said.
She also said that continued reliance on carbon-intensive resources such as oil and gas, particularly in Europe, "is propping up dictators like Putin who are taking advantage" and using export revenues to fund regional aggression and destabilization.
"This moment is so critical, and I think the stakes are too high not to address it," she said.
Sikorsky noted that Secretary General Jens Stoltenberg has been an advocate of climate action. He was the first top NATO leader in decades to attend a United Nations climate summit when he appeared in Glasgow, Scotland, last November.
"Climate change is a crisis multiplier. It forces people to flee. It increases competition over scarce resources like water and land. It makes the world a more dangerous place," he said in an interview with The Washington Post last year.
Reprinted from E&E News with permission from POLITICO, LLC. Copyright 2022. E&E News provides essential news for energy and environment professionals.